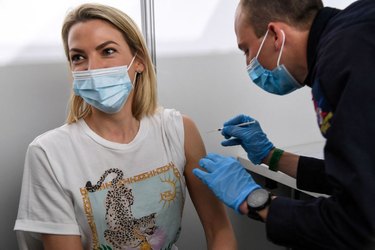 Eligibility for the COVID-19 vaccines expanded to everyone in the U.S. ages 16 and older as of April 19, 2021. After a slow rollout of the vaccine, it's finally available to anyone who wants it.
If you have yet to land an appointment for the COVID-19 vaccine, the vaccines.gov website is an efficient way to book one now.
Here's how to book your appointment
Visit vaccines.gov.
Click Find COVID-19 Vaccines.
Select the vaccines you're willing to get (Moderna, Pfizer, or Johnson & Johnson's Janssen vaccine). If you aren't picky, choose all three for more appointment availability.
Enter your zip code and search radius.
A list of pharmacy's, medical centers, health facilities, etc. that carry the vaccines will populate. If there are vaccines in stock, it'll say "In Stock" with a blue check mark. You'll be able to look at a map to find the location nearest you.
Click on your choice and tap Check Appointment Availability.
Fill out a questionnaire and schedule your first and second appointment. Or if you've already received the first, you can schedule only the second at most locations.
Vaccines.gov also has the latest COVID-19 information and can tell you what you need to know about your state's vaccine protocol. And once you get your vaccine, scoot on over to Krispie Kreme for one free doughnut every day for an entire year. Might be overkill, but hey, it's available to you if you want it. And at this point, we all deserve a doughnut or 365.