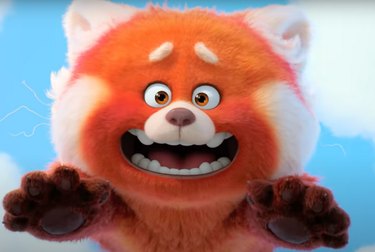 In the first teaser trailer for Disney/Pixar's "Turning Red," a 13-year-old girl named Mei Mei (Rosalie Chiang) is trying to get through school and life in general as a teenager without turning into a giant red panda.
When Mei Mei is completely stressed out by her overbearing mom, Mei Lee (Sandra Oh), she spontaneously transforms into a panda — pink explosion smoke and all. In the trailer, we see how the whole turning into a giant animal thing catches her teachers and classmates off guard, which makes a lot of sense since transforming into a giant anything would be pretty alarming. Plus, we get some Backstreet Boys "Larger Than Life," which also makes sense.
Naturally, shapeshifting into a panda is mortifying for Mei Mei, so she's forced to try to figure out a way to control the emotions and anxiety she feels from her triggers. Or she's going to have to determine how to make it all work in her favor.
Check out the teaser trailer below:
"Turning Red" will hit theaters March 11, 2022.