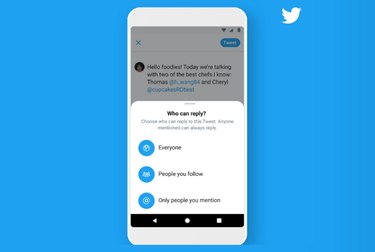 Twitter is finally letting you edit your tweets... kind of. The social media platform introduced a new feature that lets you limit who sees your tweet after you've already tweeted. (Imagine reading that sentence 20 years ago.)
The goal is to give people more control over the conversations they start so unwanted tweets don't get in the way of meaningful conversations, according to Twitter blog post.
"Here's how it works," the blog post reads. "Before you Tweet, choose who can reply with three options: 1) everyone (standard Twitter, and the default setting), 2) only people you follow, or 3) only people you mention. Tweets with the latter two settings will be labeled and the reply icon will be grayed out for people who can't reply. People who can't reply will still be able to view, Retweet, Retweet with Comment, share, and like these Tweets."
The new setting can help people feel safer and more protected from spam and abuse when tweeting.
An earlier feature released in 2020 let users choose who can reply to their tweets before sending them. Now the edit can be made after the tweet is out there for the world to see.