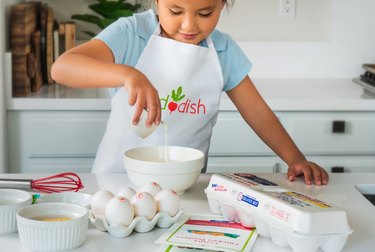 Expecting kids to make their own dinner every night isn't realistic, but nurturing their interest in cooking is beneficial for their independence and confidence in the kitchen. It's also a way to spend time together as a family.
Raddish is a subscription cooking club for kids that delivers culinary fun right to your doorstep. Designed for kids ages 4 to 14, a membership includes a monthly cooking kit that includes a kitchen tool, an apron patch, and seasonal recipes, along with digital bonus recipes and activities, and an online community.
Following recipes, measuring ingredients, and cooking food is a great hands-on way for kids to learn math and science, as well as discover new cultures and learn safety measures in the kitchen.
While it is super fun for kids to receive their monthly box, you do, however, have to go to the store for all the ingredients — or if ordering online for delivery is more your thing, there's that option too. The list is usually minimal, as you probably already have a lot of the ingredients at home.