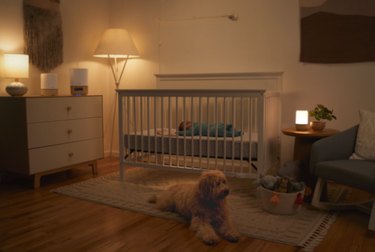 Getting your baby's nursery ready for bedtime can feel like a task, especially if you have several devices to turn on. Safety 1st has a new Connected Suite that allows you to manage your baby's nursery atmosphere with a few taps on your phone — or even by asking Alexa or Google Home to do it for you.
The Connected Suite includes a WiFi Baby Monitor, Smart Humidifier, Smart Soother, Under Crib Smart Light, and Dual Smart Outlet. Of course, you don't need to purchase all of the devices for them to work — they each work independently and can all be managed by the Safety 1st app.
You can buy the full Connected Suite here or check out all of the devices below.
Keep an eye on your baby with the Safety 1st WiF Baby Monitor, which features a fully encrypted HD livestream, crystal-clear night vision, two-way talkback, and customizable motion sensitivity and sound detection. It's small, so it doesn't take up too much space on a bookshelf or mounted to a wall.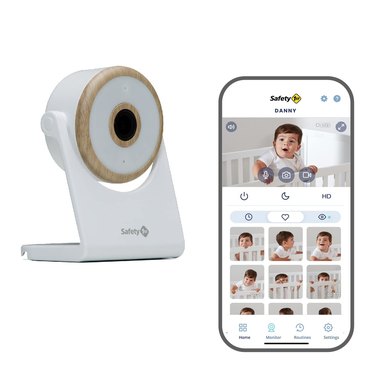 This Smart Soother can be a lifesaver if your baby sleeps well to white noise, lullabies, or nature sounds. It also works as a night light, and you can change the color of the light and dim it from your phone. You can also manage the sounds from the app and set scenes and the timer.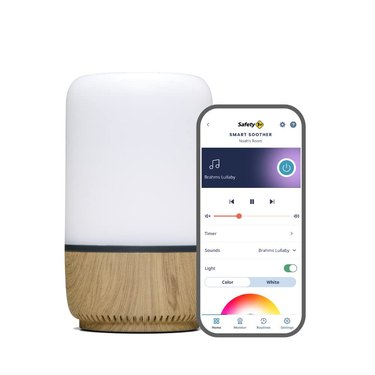 The Under Crib Smart Light has a built-in motion sensor that automatically activates when you check on your baby. The point is to give you some light when it's needed but avoid waking the baby. You can customize the brightness and colors via the app, or you can choose from six recommended lighting presets.
The Dual Smart Outlet lets you control almost any electrical device when it's plugged into the outlet. The outlet automatically makes any two devices smart, and each device that's plugged in can be managed separately of the other. You can set a timer, manage a schedule, or create a custom routine. It comes with two clear plug protectors to stop curious little fingers from getting hurt.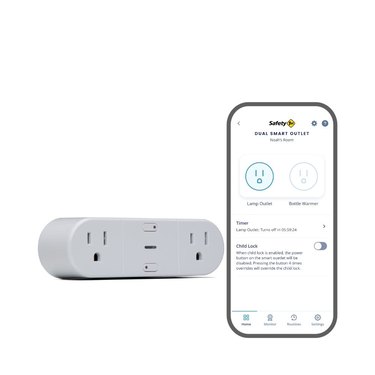 As cold and flu season approaches (and since it's apparently always COVID season), turn your baby's humidifier off and on from the comfort of wherever you're sitting. The Smart Humidifier is a top-fill tank with a one-gallon capacity that lasts for 24 hours. It has a touch display with a humidity and temperature indicator to help keep rooms at the ideal humidity level, and it can also be controlled via the Safety 1st app.