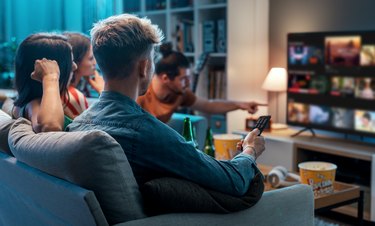 Well, it's finally happening. Netflix is officially bringing on ads.
On Thursday, Netflix announced that a new lower-priced subscription plan will include ads. The plan is called Basic with Ads, and it's priced at $6.99 a month. The plan will launch on Nov. 3 at 9 a.m. PT in the U.S., Australia, Brazil, Canada, France, Germany, Italy, Japan, Korea, Mexico, Spain, and the UK.
The new plan is a great option for those who want to keep Netflix but also want to save money. The good news is, Basic with Ads won't affect Netflix's existing ad-free Basic ($9.99), Standard ($15.49) and Premium ($19.99) plans.
There will be a few differences between the new Basic with Ads plan and the higher priced plans. The video quality for both the Basic with Ads and Basic plans will be 720p/HD; there will be an average of 4 to 5 minutes of ads per hour; some of the movies and TV shows won't be available due to licensing restrictions, but Netflix says they're working on it; and you won't have the ability to download titles.
So, what do you think? Will you make the switch?