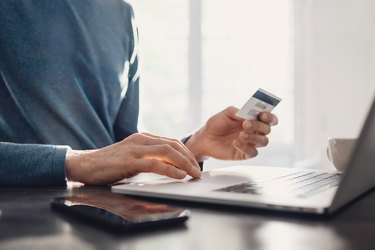 Whether you're moving to a place without a convenient branch nearby or find that you don't use your account enough to justify any monthly fees, you may decide to close your Chase account. Chase no longer allows account holders to send a secure message to close a savings or checking account online due to security concerns. Instead, you need to call the customer service line or head to your local branch. In either case, take some steps beforehand to get your account ready for the closure process and prevent issues such as bounced recurring charges in the future.
Prepare to Close Your Account
Before contacting Chase to close your bank account, check for any bills, subscriptions or other recurring charges that use the account. After your account is closed, these charges cannot go through any longer, and this can cause disruptions to your services or potential fees. Arrange to use a credit card or another bank account for any automatic payments and make those changes with your providers.
In addition, update any direct deposit information so that your funds are sent to an active account. This includes not only regular transfers you might receive from your employer but also services like PayPal or Payoneer that you configured to use your Chase account.
While Chase gives you the option to have a check mailed to you for your remaining bank account balance, you may find it less of a hassle to transfer those funds to another bank account. However, consider any requirements for a minimum balance and time the transfer so that you don't face fees before the closure happens.
Close Chase Account Over Phone
If you want to speak with a Chase representative about closing the account, call 1-800-935-9935. The personal banking hours are between 8 a.m. and 9 p.m Eastern time on weekdays. The system asks you to enter either your bank account number or debit card number and input your PIN. You then press 0 to speak with a live agent.
After someone comes on the line, expect to answer more questions such as your name, birthday and address to verify your identity. Then, explain that you want to close your Chase account. The representative lets you know if you need to take any further steps to collect the remaining funds and successfully close the account. You may receive a confirmation number at the end of the call; however, the account closure process can take a few days to finalize.
Close Chase Account at Branch
If you aren't sure if you have a Chase branch near you, use the branch locator tool on the Chase website to see a list of your options. Then, head to your preferred Chase location and tell a bank representative that you want to close your savings or checking account. The representative asks you to verify your identity and account information for security purposes, so bring your photo ID and have your account number handy.
Chase usually hands you an account closure form to fill out. It asks for your contact information, account number, account type and preferences for receiving remaining balances. After you fill in the requested information, sign and date the form. If your account has two owners, either of you can complete the form, but Chase might still ask for both of the account owners' signatures.
After you fill out the account closure form, the Chase representative lets you know when you can expect to receive a check for the remaining funds, if applicable. You can also ask to receive written confirmation once the account closure process is complete.