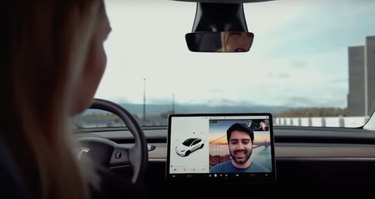 Getting stuck in traffic soon won't be an excuse for missing a Zoom meeting for Tesla drivers. A Zoom executive announced this week at the 2022 Zoomtopia conference that the teleconferencing app will be coming to all new Tesla models.
Zoom released a quick video demonstration of what Zooming in a Tesla will look like, and it shows a woman using the app as she charges her Tesla Model Y. It looks like the third-party app will use the in-cabin camera that's located above the rear view mirror.
It's unclear exactly how Zoom will work in cars, including whether it'll only work on WiFi or if Tesla owners who pay for the Premium Connectivity add-on (faster internet for a monthly fee) can Zoom using the car's data plan. Safety is also a concern, but the demonstration video doesn't show the vehicle in motion during the call, so Zoom will likely be disabled until the car is parked.
There's no official release date for the Zoom integration at this point, but according to Zoom, it will be coming to "all new Tesla models soon."