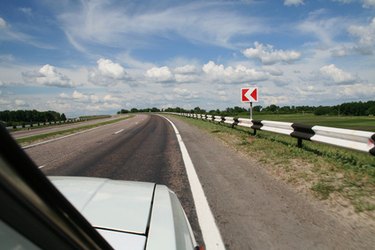 Ford's factory-installed navigation systems provide drivers with features such as voice recognition, a points-of-interest database and hands-free calling. Some systems also allow vehicle climate control or DVD viewing. While driving, you may wish to change some of the system's settings, including the way directions are given or the way your vehicle is displayed on the map. Calibrating the navigation system allows you to update the remaining distance from your vehicle to the destination. It also lets you choose the vehicle's direction as it displays on the screen.
Step 1
Turn on the Ford's navigation system, then touch the "Navigation Preferences" tab, located on the main menu.
Step 2
Touch "Calibrate" to enter the calibration menu.
Step 3
Tap "Distance" to update the vehicle's distance to its destination on the map.
Step 4
Touch the "Position" option to change the direction of the vehicle as it appears on the map screen. Use the arrow buttons to choose the direction you want to view.