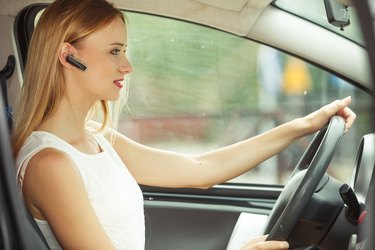 The E46 is a 3 Series BMW vehicle that was produced until 2005. Late models of the E46 feature BMW's onboard computer control system with Bluetooth. Using the Bluetooth feature, you can connect a Bluetooth-enabled cell phone to the onboard computer control system in your E46. You will need to complete an initial pairing process to establish this connection.
Step 1
Power on your BMW E46. The vehicle will automatically enter pairing mode for approximately two minutes.
Step 2
Select the "Bluetooth" option on your phone and set the Bluetooth to the "On" position.
Step 3
Select the option on your phone to search for new Bluetooth devices.
Step 4
Select the BMW vehicle from the list of Bluetooth devices displayed on your phone.
Step 5
Enter the four-digit Bluetooth passkey for your BMW. You can find the passkey listed in your vehicle's documentation.
Step 6
Wait while your phone completes the Bluetooth pairing process. The phone will prompt once a successful connection has been established with your BMW E46.