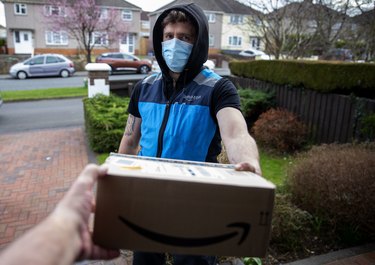 You probably heard about the Amazon program that allowed customers to tip their drivers $5 by asking an Alexa device to thank their drivers.
The program began on Dec. 7th, and Amazon shelled out the virtual $5 each time someone thanked their driver, but the tips were capped at the first 1 million thank yous — and the $5 million was gone within a couple of days.
The purpose of the program, other than providing a few extra dollars to Amazon's overworked and underpaid drivers, was to make people aware of the new Alexa feature that let's you thank your driver any time you get a delivery. All you need to do is say, "Alexa, thank my driver." The driver won't receive $5 now that the program has ended, but they'll receive your gratitude, which they may or may not care about.
If you want to continue tipping your drivers with actual money, there's a clever way to make it happen — request that the driver ring your doorbell when the package is delivered.
To add delivery instructions for your Amazon drivers, go to Account & Lists > Accounts. Under Ordering and Shopping Preferences, tap Your Addresses. Select your home address and tap Add Delivery Instructions. From there, you can add a request for your drivers to ring your doorbell. When they do, have $5 (or however much you'd like to tip them) in hand and ready to go.