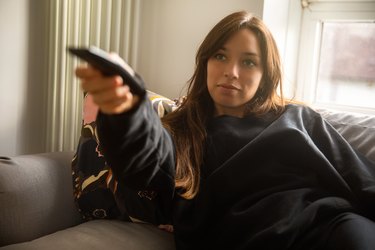 It's always a nice bonus when you stay at a vacation rental or hotel that has a smart TV that lets you sign into your Netflix account. The problem is, you just have to remember to sign out.
For all the instances when you forget to sign out at an Airbnb, or when you let a friend log into your account to watch whatever series you're currently obsessed with and can't stop talking about but now they've taken over your recently watched list, there's a quick and easy way to log out of all your Netflix-connected devices at one time.
How to log out of Netflix across all devices
While you can sign out of Netflix on each device individually, sometimes you don't have access to them. The only way to kick everyone out of your account all at one time is by using in-browser Netflix.
Open Netflix.com and sign into your account.
Tap your profile icon in the top-right corner and select "Account."
Scroll down and select "Sign out of all devices" from the right-side menu.
You'll need to confirm you want to sign out of your account on all devices by clicking "Sign out" one more time.
Once you sign out, anyone using your account will be kicked out and taken to the sign-in prompt. So, unless your login information is saved on a particular device, no one will be able to login again except for you and anyone who still has the password. Of course, changing the password is another way to do it.