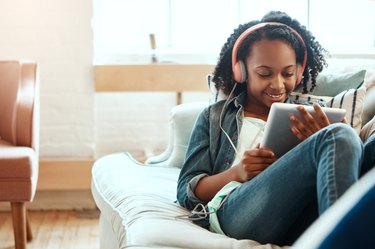 Netflix is known for its original programming as well as for carrying shows from many TV networks. Whether you've simply grown tired of Netflix or just don't have the time or money for it, you can choose to put your membership on hold, cancel it or delete your account entirely.
Delete a Profile
You may not want to delete your Netflix account, but may instead want to delete one of your Netflix profiles. Netflix allows you to have up to five individual profiles on your account. Each profile and what is displayed on it will depend on the watcher's preferences. You can easily reset these preferences by deleting the profile. Delete a profile by clicking the "Manage Profiles" option on Netflix and then clicking on the profile that you'd like to delete. Click the "Delete Profile" button to permanently remove that profile from your account.
Put it on Hold
Putting your Netflix account on hold is a good solution if you're not quite ready to cancel your account but would like a temporary break from paying for it. Netflix allows you to put your account on hold for a set period of time – typically between seven and 90 days. You can put your Netflix account on hold by logging into your account on Netflix.com and then clicking the "Help Center" link on the bottom of the screen. Click "Start a Live Chat" to be connected to Netflix customer support. Tell them that you would like to put your account on hold and they'll process the request.
Cancel a Netflix Account
You may want to cancel your Netflix account if you're sure that you don't want a hold on the membership but aren't ready yet to totally delete the account. Netflix will not automatically delete your canceled account unless it has been canceled for at least 10 months. You can cancel your Netflix account by logging into your account on Netflix.com and then clicking the "Account" link. Click "Cancel Membership" next to your plan and then click "Finish Cancellation." The cancellation will be effective at the end of your current billing period, so you won't get a refund for membership fees paid to date.
Delete a Netflix Account
Netflix deletes canceled accounts after 10 months, but you can get your account deleted faster. Delete your Netflix account by first canceling it and then by sending an email to privacy@netflix.com from the email address associated with your account. Type "Delete my account" into the subject for the email and then request in the email that they delete the Netflix account. Netflix will process your request and respond to your email address when your account is deleted.