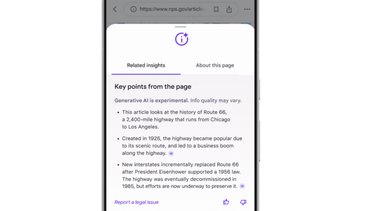 Google announced that it's going to start using generative AI to summarize articles so you don't have to read them (but you should read them, because you know, journalism). In a blog post on Tuesday, Google says that the new feature is an early experiment in Search Labs called "SGE while browsing."
"Our aim is to test how generative AI can help you navigate information online and get to the core of what you're looking for even faster," the blog post notes.
When you open a long-form article, AI will generate a bullet-point list of key points from the article that Google thinks you'll want to know. When you click on one, you'll be directed to the location in the article that discusses the key point.
SGE while browsing will only show AI-generated key points on free articles that aren't behind a paywall. According to Google, it's currently available in the Google app on Android and iOS if you're already opted into SGE and will be coming to Chrome on desktop in "the days ahead." If you want to try SGE while browsing on desktop, you'll need to update to the latest version of Chrome and then visit Labs.