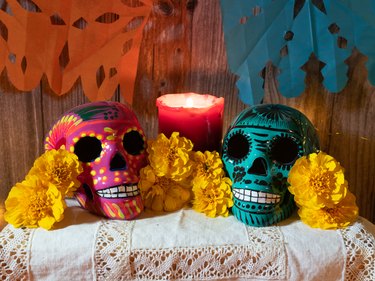 Día de Muertos, AKA Day of the Dead, is a Mexican holiday that's traditionally celebrated from Nov. 1 to Nov. 2. Its a lively and joyous celebration that helps families honor their ancestors who have died and serves as a reminder that death is part of life.
You can't have a proper Día de Muertos celebration, however, without colorful and meaningful decorations. If you're in need of decor for your family's festivities, scroll on for some affordable options.
These Marigolds For The Day of the Dead Altar
Marigolds are thought to attract the souls of the dead to your family's altar, so if you can't get your hands on real marigolds, this 50-piece or 200-piece marigold set is the next best thing.
This plastic papel picado banner is a traditional Mexican folk art that serves as a symbol of the fragility of life. The colors symbolize purity and mourning, and the holes in the designs are believed to make it possible for souls to travel through to visit with their families. This banner is over 14 feet with nine unique panels.
This 172-Piece Day Of The Dead Kit
This inexpensive Día de Muertos balloon arch kit is jam-packed with 172 pieces of latex and mylar balloons, as well as the items needed to build the balloon arch.
These hanging Day of the Dead banners are the perfect addition to your porch for the holiday. The set includes two banners with holes at the bottom to tie the included strings to keep them in place. The banners are durable and weather resistant, and they're also machine washable.
These Luminary Dead Of The Dead Bags
hThese flame resistant paper bags can be used as treat bags for the kids, as decor for your Day of the Dead altar, or place tea lights inside and use them as a luminary path in your yard. There are 24 bags included.