Wouldn't it be nice to get your entire family on the same page? That's the idea behind Picniic, a next-gen family planner that hopes to become the "operating system for the family home."
Picniic is an app that acts like a central hub for anything and everything having to do with your family. It appears in tile format on your smartphone. There's a shared family calendar, to-do lists, a meal planner, a grocery list, a group event planner, family locator, and an info locker, and more.
The big idea of Picniic is that every time a family member makes a change to the calendar, everyone else sees the update right away in the form of a push notification. (You can customize it so that only certain family members get push notifications depending on the event. But everyone can see what's going on through the shared family calendar.)
Everyone's in the know
Picniic is the brainchild of Michael Cole and Ivan Tung. Cole is the founder and former CEO of Fit Brains, while Tung comes from a career in the video game industry. Both are husbands and fathers of two who saw a need for a family management platform in their own lives and decided to create one.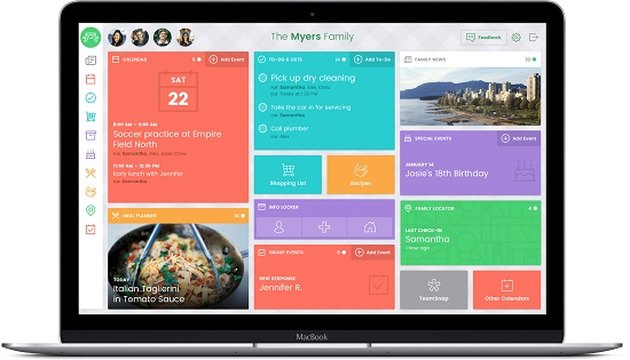 Cole tells Techwalla he got part of his inspiration from his workplace. "There are all kinds of tools and systems for bringing teams together in a more cohesive way. I just thought there should be a way to do it for families, too," he said. He and Tung spent time talking to families to learn about the pain points -- where organizing help was needed.
"We spent the first year before we built anything just listening," Cole said. They were shocked to discover that despite having fancy smartphones, mothers were still carrying around printed calendars. Clearly, there was a need for a 21st-century solution.
Meal planning
One of the things they discovered was that families were often scrambling to put a meal together at the end of the day. They needed a way to organize dinner beforehand. So Picniic introduced a meal planner. Here, families can organize their meals, and family members can even make requests, like "Hey, mom, can we have meatball sandwiches tonight?"
Picniic's meal planner is linked to Recipes.com so if you're in the mood for a pasta dish, you can type in pasta and that site will offer up suitable recipes. When you add a recipe, the ingredients are automatically added to Picniic's grocery list.
Info Locker
Another pain point: Parents lacked easy access to important medical information. Cole says that this type of information was typically scattered across six or seven locations, things like vaccination records and other critical family medical history. So they created a family info locker to store this information so it would always be available when needed. Cole says data is fully end-to-end encrypted in Picniic so it's safe to store sensitive records.
Group Event Planner
Another interesting thing Picniic's creators discovered was the need for inter-family communications, and even family-to-organization communications, like between families and religious institutions or schools. For example, say you need to organize an after party for your child's sporting event. You send out an invite on Picniic and invitees -- that is, other families -- receive a web link where they can take a survey that offers a selection of times. Everyone picks the time that works best. Only one person needs Picniic for this to work.
Family Locator
Picniic also includes geo-fencing for peace of mind. If your kids walk to school, and use Picniic on a smartphone, a push notification lets you see when they get there safely.
The basic app is free, but premium features require a subscription, which can cost about $50/year. The price includes up to 10 family members.
Picniic works with iOS and Android devices as well as Web browsers, and voice features are rolling out as well. Picniic's first skill for Alexa, for example, launches soon.