Planning a family vacation to another continent? You've probably got the hotel and flight arrangements figured out. But have you thought about how you're going to stay connected while you're away? What is your plan for data service so your phone can connect to the internet?
Making good decisions before you leave can spell the difference between getting enough connectivity at a reasonable price or being caught short... and overspending anyway.
So many choices
International calling. Obviously, using international calling services from your US wireless provider is one route to take. And the simplest, after a fashion. But traditionally, that's a pretty expensive way to go. That said, T-Mobile, AT&T, and Verizon now offer more affordable plans with simplified billing.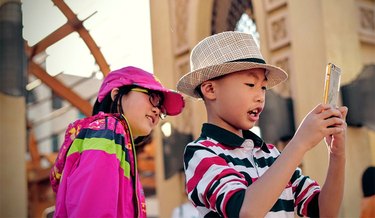 WiFi. WiFi gives your family another set of options. A service called WiFi Calling is now built into many (but not all) new phones. Alternatively, you can use messaging apps like Skype, WhatsApp, or Tango for voice calling and web messaging, connecting to the Internet through either WiFi, a cellular data connection, or a fixed network like cable or DSL. Of course, just as in the US, many hotels, coffee shops, and restaurants overseas provide free public WiFi. You might also want to bring along an international global pocket hotspot device.
A SIM card. Buying SIM cards for the cellular service at you destination, and then popping the cards into your phones, is a time-honored choice for budget-conscious travelers. It still might be your most cost effective option. To pull this off, though, you need unlocked phones.
KnowRoaming. Meanwhile, a Canadian-based company called KnowRoaming now offers a twist on the SIM card approach, with a sticker that you can apply to the SIM card in your phone to allow calling from worldwide locations at. low pricing. You're even more limited with KnowRoaming, though, when it comes to which phones you can use.
Google's Project Fi. Still another new choice now emerging is Google's Project Fi International LTE Network. So far, however, only a handful of phones -- all from Google -- support this feature-rich service.
That's the reader's digest version. But read on for details. Weigh factors like which phones you have on hand, which countries you'll be visiting, and how much usage you expect to make of cellular services in those parts of the world.
1. AT&T, Verizon, Sprint & T-Mobile
Phones from AT&T and T-Mobile support the GSM standard used in most countries anywhere on the planet. (Please note that GSM does not currently work on any of the nearby earth-like planets that NASA recently discovered.) Older phones from Verizon and Sprint may only be equipped for the less common CDMA standard, but their current models are more likely to offer both CDMA and GSM.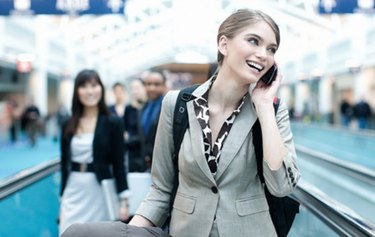 If you're traveling in Mexico or Canada, all of the "big four" US carriers now provide voice calling, texting, and data services at no extra charge, although in some cases these services are only available with certain US calling plans.
When it comes to using a phone from the US outside of North America, you really do need an international plan in addition to your domestic plan, or your next phone bill could be astronomical. Even then, connectivity can be expensive. Under AT&T's long-standing Passport plan, for example, you might get charged $1 a minute for voice calling, even after paying a $40 subscription fee for 30 days of Passport (along with whatever you're spending each month on the domestic plan).
T-Mobile, though, has started adopting a radically different approach for US customers: T-Mobile One. The new T-Mobile One plan provides you and your family with free texting and data services in 140 countries. Inbound voice calls are free, and outbound voice calls cost only 20 cents per minute. Multi-line discounts are available, too. For instance, the plan costs $75 monthly for a single line, and $160 for four lines, with all taxes and fees included. That will cover you, your spouse, and two children. It's a postpaid plan you can cancel at any time.
That's not the end of the story. You can also get T-Mobile One Plus, which includes not just free data and free texting but free outbound calling, as well. Multi-line discounts are available on this plan, too, but you'll pay slightly more than for the plain vanilla T-Mobile One service. A single line will run you $90 monthly.
Prepaid T-Mobile customers can also get similar services to T-Mobile One Plus. A single prepaid line costs $90 monthly, too, but there are no multi-line discounts for prepaid accounts. So four lines of prepaid service would cost you $360 a month! Postpaid is definitely the way to go on T-Mobile.
AT&T and Verizon have both introduced new international travel plans. The AT&T International Day Pass lets you use your family's existing AT&T plan in any of more than 100 countries at the flat rate of $10 per line per day. No separate charges are then added in for voice calling, texting, and data services while you're out of the country. So if your US plan gives you unlimited calling, text and data, the $10 daily fee will provide you with exactly the same services when you're abroad.
The AT&T International Day Pass is actually quite similar to Verizon's existing TravelPass, except that TravelPass is only available with certain domestic Verizon plans. Like AT&T's Day Pass, Verizon's TravelPass lets you take you existing voice calling, texting, and data limits with you to any of more than 100 other countries, at a flat fee of $10 per line per day.
Verizon's recently added service is called Verizon Unlimited Together. This service, however, only gives you discounts on voice calls you make to other countries from within the US; it does not cover texting or Internet data connectivity. For an additional $15, you get unlimited voice calling from inside the US to landlines in nearly 70 countries and to mobile phones in almost 40.
Unlimited Together is essentially a copycat of T-Mobile's Stateside International Calling and Sprint's International Connect. These services might come in handy if you're making tons of calls from the US before leaving for a trip overseas, or after you come back, but they won't help you while you're in another country.
So what about Sprint? At the moment, Sprint provides US customers with a bunch of free or discounted services for use in other countries. Sprint Global Roaming gives you free texting as well as free data services (at speeds of up to 2G), but only if you're using Sprint LTE/GSM-capable phones. Phone calls placed on Sprint Global Roaming cost 20 cents per minute.
For faster data, you can buy a one-day, one-week or two-week Sprint International Speed Data Roaming Pass. But a one-day pass costs $15, and you only get 200 MB of data.
If you are headed to Canada, Mexico, or any of a number of Latin American countries, you can call or text free of charge and get 1 GB of high-speed data, also for free, through Sprint Open World. Sprint describes high-speed data as "up to 3G" -- and additional data beyond the free 1 GB is priced at $30 per GB. So you and the kids will really need to watch out for data overages!
If you'd like to get a SIM card for an overseas network instead of relying on your US carrier, you'll find that most phones sold by US carriers are locked for use only with the specific carrier. Many phones can be unlocked, but you'll generally need to contact your carrier for assistance.
2. WiFi
It might be tempting to think that free connectivity through WiFi will be enough to keep your family rolling during a vacation. With apps like Skype, WhatsApp, Tango, and Facebook Messenger, voice and video calling can be free.
You can also make international phone calls from Skype or Tango to mobile and landline phone numbers for pennies--or in some cases, even for free.
"WiFi Calling" is another option, if this new service is built into your phones. (Supported phones include the iPhone 5s and higher, along with most Android phones since 2016.) To take advantage of this feature for calling from WiFi hotspots, simply enable it on your phone. Then you can place phone calls just as you would on a cellular connection.
However, you need to be somewhat careful with WiFi Calling. Regardless of whether you're a T-Mobile, Verizon, Sprint or AT&T customer, you can use WiFi Calling to make free voice calls to US numbers from most countries, On the other hand, phone calls to non-US numbers can cost your dearly. Make sure your kids know which numbers they're allowed to call vi a WiFi Calling.
In any event, by using WiFi at your hotel, you might well be able to take care of most of the family's need to contact the folks back home. However, relying on WiFi alone could limit how much your family can do on vacation. Hopefully, you won't be spending all of your time in hotels.
You can never tell when a need for connectivity might crop up when you and the family are out and about, nowhere near either the hotel or any other type of public WiFi hotspot. What if you get lost and suddenly want to access Google Maps? What if your car breaks down and you need to call for roadside assistance? How can you contact your spouse if he suddenly gets separated from the rest of the family at a park or shopping area, along with some of your kids?
It's a good idea to have at least two phones with full cellular connectivity along on family vacations--one for each parent.
A mobile WiFi hotspot is another possibility. These gadgets use WiFi to send the 3G or 4G signal from your carrier to one or multiple devices. One advantage of the hotspots is that they work with unlocked phones, meaning that you can keep your existing SIM cards. On the other hand, these small gizmos can be easy to lose, and might be cumbersome to use when you and the kids are tromping around a new city. It's easier to just pull a phone out of your pocket than to deal with carrying and setting up an extra piece of mobile hardware when you're out and about.
Yet if your hotel doesn't have WiFi, a pocket hotspot could be essential, especially if you've also packed tablets or laptops. If you opt for a pocket hotspot, the Keepgo Lifetime WiFi Hotspot is a good option for international travel. Supporting data sharing among up to 10 devices, it works in 64 countries in Europe, Asia and the Americas. The hotspot costs about $120, and it comes with 1 GB of data, for starters.
3. SIM Cards
It's long been common practice for travelers from the US to wait until reaching their destination, go to a nearby newsstand or store, and purchase a SIM card for a wireless carrier in that country.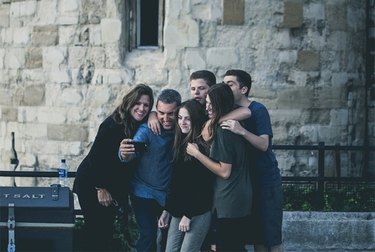 You can still do that today, of course, and you can pick up an unlocked phone at the same time, maybe for as little as $20. Yet it's also easy these days to purchase a prepaid SIM card (and an unlocked phone, if necessary) either online or from a retail store while in the US before you leave. This can spare you from shopping for, configuring, and setting up a SIM card when you could be spending your vacation time having fun with your kids.
You'll also know the phone number you'll be using during your globetrotting right up front, so you can hand it out to friends in the US ahead of time.
SIM card packages are available for either one country or continent only or for most of the world, and they typically work with all three types of SIM slots: micro, nano, or mini SIM.
Some companies sell specific combinations of services aboard these cards. Most, though, sell you "credits" to be applied however you'd like to voice calling, texting, and data services. The price of the SIM card is bundled in with the services. Generally, you can recharge SIM cards with more credits directly on the SIM card provider's website.
LeFrenchMobile, for example, provides some services for travel inside France and others for use throughout the larger European Union (EU). A 25 Euro credit, equivalent to around $27 US dollars, will get you three hours of calling and 60 texts for use anywhere in EU. For about 40 Euros ($43 US dollars), you can get 1 GB of mobile data for EU use, along with two free credits toward voice calling and texting.
Another provider, OneSIMCard, offers several different plans for voice calling from over 200 countries and Internet data services in 170 countries. Pricing for voice calling starts at 25 cents per minute. Cool bells and whistles include dual SIM cards which provide you with two phone numbers (one for the US and another for the UK, for instance). You can buy data in increments as low as 2 KB, and the company provides a free 24-hour concierge service for helping you with translation and other travel needs.
Also through OneSIMCard, you can purchase an unlocked phone for about $50 to $150 or rent one for around $2 to $10 a day. In addition, the company sells mobile Internet pocket hotspots
If prices for these prepaid SIM card offerings don't seem that incredibly low, keep in mind that you're not paying any monthly, weekly, or daily service charges to the overseas wireless carriers.
4. KnowRoaming Global SIM Sticker
What if you already own an unlocked phone, but you'd rather not muck around with swapping out SIM cards? There's a solution for that, and it's called the KnowRoaming Global SIM Sticker.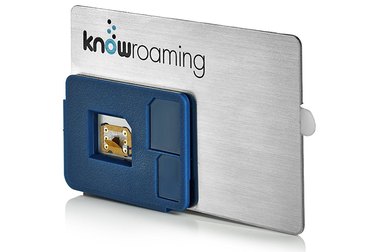 You buy a KnowRoaming sticker for $30, a price that includes a $10 credit for voice calling, texting, or data services. You then apply the sticker to your existing SIM card, install KnowRoaming's app on your phone, and create an account.
After purchasing some services, you should be good to go in more than 200 counties.
The company claims to save you up to 85 percent on voice and data roaming. As with SIM cards, pricing for services varies according to location. You can buy unlimited data for $8 a day under a plan available in over 90 counties.
A down side is that KnowRoaming's sticker won't work with SIM cards from Verizon and Sprint. The company explains on its website that its technology is simply "incompatible" with the mixed GSM/CDMA environments of those two US carriers.
5. Google's Project Fi
Of course, quality is another key consideration. Be sure to read professional and user reviews of a product or service before buying.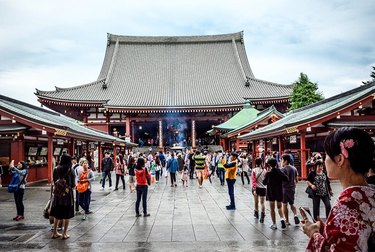 Google's Project Fi is about providing high quality of service at reasonable pricing with simplified billing and no overage fees. You receive data service on Sprint, T-Mobile, and Cellular One networks, which your phone will then switch between intelligently. Project Fi also uses WiFi to place voice calls and send text messages wherever possible.
Pricing is the same when you use Project Fi in the US or in any of about 120 other countries. Under this prepaid service, you pay $20 per month for unlimited talk and texts, along with a flat rate of $10 per GB of data.
You estimate in advance how much data you think you'll use during the month ahead. Then, at the end of the month, you either get a refund for unused data or pay a bit extra on the next bill to make up for the overage.
If you want to save more money, you can set up a slightly discounted "Group Plan" for up to six users. The "administrator" (Mom or Dad?) can set up data limitations for other users (the kids?) as needed.
Project Fi works via a special SIM card and software on supported phones, which are currently limited to Google's Pixel XL, Pixel, Nexus 6P, Nexus 5X and Nexus 6 models. These phones don't come cheap, listing for anywhere from around $350 to $770. You can also use a special data-only SIM card with any tablet that supports the T-Mobile network.