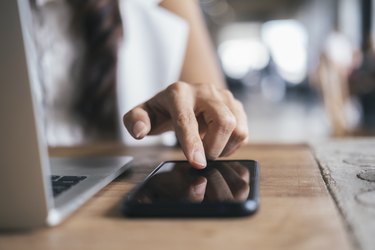 Roaming was once an ongoing issue for cellphone owners. Just a trip to the grocery store could take you outside your service area, where you'd be charged excessive fees for every minute of talk time. But today, MetroPCS and other cellphone providers typically charge roaming only if you're outside of the country. Before you travel, access the MetroPCS roaming countries list and get in touch with T-Mobile if you need international services.
Understanding MetroPCS Roaming
MetroPCS, now called Metro by T-Mobile, does not provide calling services outside of the U.S. But that doesn't mean you can't use your phone once you leave the country. To expand its MetroPCS world calling coverage map, the company contracts with third-party services, which means you'll have to pay extra for the privilege.
Even though you can use your MetroPCS phone outside the U.S., that doesn't mean it will work in every country. You'll need to check the MetroPCS roaming countries list to make sure your phone will work. If it will, you'll also be responsible for ensuring your equipment and activities are legal in the area you're visiting.
Setting Up International Service
Although you can use your phone anywhere that's included on MetroPCS roaming countries list, you may not need to pay those extra roaming fees. Metro by T-Mobile offers something called a World Calling add-on feature for only $10. For this fee, you can purchase 200 talk minutes, 200 texts and up to 200 MB of data as long as you're in one of the countries T-Mobile includes in the plan.
If you're looking at the MetroPCS world calling coverage map because you want to call another country from the U.S., take a look at the international calling plans available. For an extra $5 a month, for instance, you can enjoy unlimited calling and texting to your loved ones in Mexico. If you have friends spread out across the world, the Global Voice plan will add only $10 per month to your service plan and let you call more than 140 countries.
MetroPCS's Fine Print
At first look, the MetroPCS roaming policy frees you to travel anywhere in the U.S. without worrying about roaming fees. But when you dig down a little, excessive data usage outside the carrier's coverage areas can lead to something called throttling. In other words, if you spend a lot of time in an area without T-Mobile coverage, you could see your service slowed down, similar to what would happen if you exceeded your monthly data limit.
If you have a prepaid plan, it's important to note that data roaming isn't included. You'll be able to make phone calls and text from the areas you're visiting, but your data use will be subject to extra MetroPCS roaming charges. You'll also be charged more to use picture or video messaging outside the U.S. if you're on a prepaid plan. Even if you've checked the MetroPCS world calling coverage map and you feel you're safe, it can't hurt to check with T-Mobile to make sure you have the right plan for where you spend the most time.