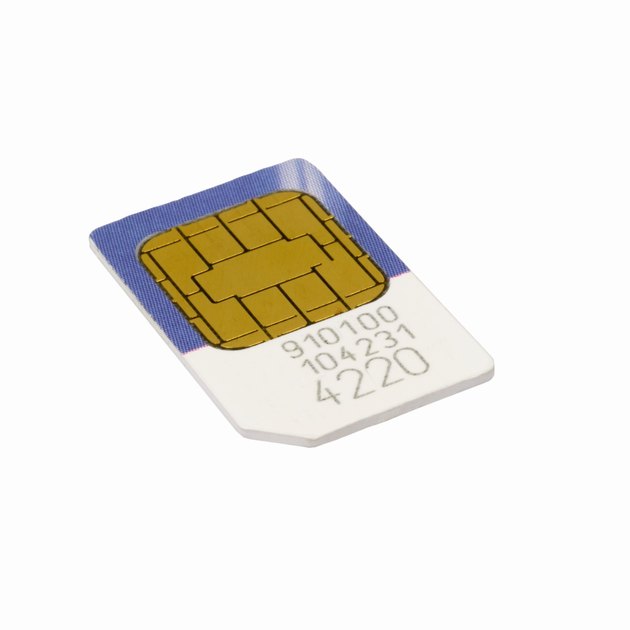 A "Subscriber Identity Module" is a small miniature card that fits into some cell phones and electronic devices that stores personal identity information, addresses and more. The SIM card has evolved since its release in 1991 by Giesecke & Devrient, a company that made the first commercially available SIM cards. The main difference between the 64K and 128K SIM cards is the space available for the mobile network company to provide additional SIM-run applications.
The 64K Card vs. the 128 SIM Card
The 64K SIM card used to be the top SIM card available before the release of the 128K SIM card in 2003, which doubled its storage capacity size. The 64K SIM card can hold information for up to 500 contacts, while the 128K SIM card contains information for up to 600 contacts or more, but this may vary depending upon the SIM card manufacturer and the device in which the card is used. Beyond the memory storage, the 128K card dedicates a large portion of its memory to information-on-demand services, not usually available with the 64K card. The larger the SIM card, the more mobile network applications the mobile carrier can run from it.
SIM Cards
SIM cards hold personal identification data that allows your electronic device to connect to the subscriber wireless service you use. It maintains all your personal account data and can be transferred between devices, as long as the device supports the specific SIM card type. Beyond the personal information, the larger SIM cards, such as the 128K allow the mobile network carrier to run SIM-based applications that include short message service lock, which protects your subscription against unauthorized use; social networking, which allows direct access to social networking accounts, auto roaming and a host of other features.
Network Platforms
All SIM cards are built using one or more of several network platforms, depending on the technology network the mobile network carrier uses. These platforms are Code Division Multiple Access, CDMA; Global System for Mobile Communications, GSM; Universal Mobile Telecommunications System, UMTS; Long Term Evolution, LTE based upon the GSM and UMTS technology. Other networks used by the SIM cards are for devices with commercial applications and new technologies.
SIM Card Costs
SIM cards are relatively inexpensive, with costs starting as low as a $1 online up to $18 and more. Before purchasing a 64K or 128K SIM card, confirm that it will work with your device and wireless subscriber service you have. Log on to your wireless service's website and check the requirements for your device.
Larger SIM Cards
Mobile network operators are using even larger cards than the 128K SIM Cards, such as 256K cards, reserving a large portion of the SIM for future use. Larger SIM cards, while not necessarily providing direct space for the device owner to use, allow the card to accept future SIM applications without having to obtain a new card.