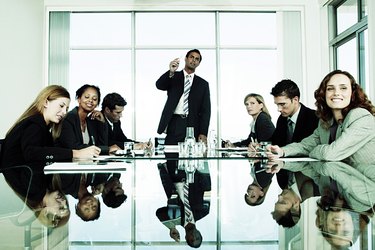 A teleconference is a group call between colleagues, family or friends. One person initiates the call and passes the information onto the others. As the name suggests, you are holding a conference, or meeting, over the telephone. There are a number of advantages and disadvantages to teleconferencing that you should consider before choosing this meeting method.
Immediate Scheduling & Flexibility
You can set up a teleconferencing call in a matter of minutes. There are online teleconferencing services that allow you to log in, set the date and time for your call, and retrieve a phone number and personal identification number, or PIN, to distribute to your call participants almost instantly. Call participants also have a lot of flexibility. Callers can leave and come back to the discussion whenever desired.
Ability to Record
Another advantage of teleconferencing is that you have proof of who participated in the call and you can also have the call recorded. So if there are any disputes or questions about the terms of a verbal agreement that was made over the phone, you can simply refer to the recording or transcript of the call. You can also email each participant a copy of the call. This will help your clients, colleagues and workers be more efficient. For instance, if you were discussing a project to be completed, an employee can replay the call to be clear about his role in the project.
Hard to Officiate
In a normal meeting, one person is usually assigned to act as parliamentarian over the proceeding. The parliamentarian is a neutral person who prevents the discussion from veering off-topic, mediates arguments and keeps the meeting short. However, when you're having a meeting over the phone, people are less likely to respect and acknowledge the parliamentarian. As a result, a teleconference can be difficult to manage and officiate.
Impersonal
Because this teleconference takes the place of an actual face-to-face meeting, this can be a very impersonal way to conduct business or discuss issues with your group. You can't look into a person's eyes when he's talking or watch his movements to gauge his mood, meaning or intent. It is harder for members to develop a strong connection with each other. If you replace face-to-face meetings with teleconferencing, your group members could, over time, start to become disconnected from each other.