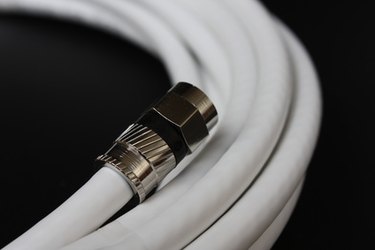 If you do use Comcast for high definition cable, you may occasionally see lower quality programming on the television. This is because the signal strength for some of the stations is not as high as other stations. In order to correct this issue, you can use a signal booster for your TV. The signal booster is a completely legal device that boosts the television signal through a power connection.
Step 1
Connect the coaxial cable running from the wall into the "In" port on the back of the cable receiver.
Step 2
Attach a second coaxial cable into the "Out" port on the Comcast cable receiver and insert the other end into the "Signal Input" on the signal booster.
Step 3
Plug a third coaxial cable into the "Signal Output" port on the signal booster and connect the opposite end into the "In" port on the TV.
Step 4
Plug the signal booster into a power outlet and turn it on, followed by the TV and Comcast cable receiver. When flipping through stations, you should now notice the stations come in clearer and have stronger colors.