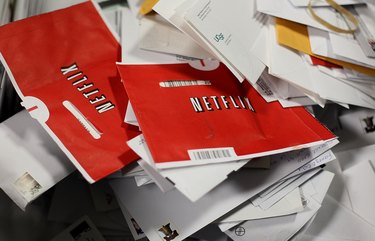 Netflix streaming media service lets you fast forward, rewind and pause movies and television programs. The Internet-based service also lets you stop a movie or television program and resume it later. The fast-forward feature is handy when you want to get through a scene or segment quickly or you want to see the ending without watching the entire movie or program.
Fast Forwarding
Slide the circle icon on the timeline, at the top or bottom of the Netflix player window, to the right to fast forward to the point in the movie or program you want. If your Netflix player window contains an icon with two right arrows grouped together, click the icon once to advance to the next segment within a scene. If the player contains an icon with a right arrow next to a solid line, click the icon once to fast forward to the next scene.
Internet Delay
As you fast forward using the timeline circle icon, segment or scene control, Netflix will pause and retrieve the scene or segment you want. The delay depends on how fast your Internet connection is and your computer's overall processing speed. Netflix recommends a 3.0 megabytes per second high-speed Internet connection to use the instant streaming service.
Available Devices
The fast forwarding control is a feature of Netflix and is not dependent on the device you are using to watch programs instantly through Netflix. Your Netflix player window may or may not contain each fast-forward control, but each player does contain the timeline circle icon.
Technical Support
If you are experiencing any error messages from Netflix while using the service's controls or while watching a movie or program, navigate your computer's Internet browser to the "Netflix - Contact Us" link and click the "Problem watching instantly" link. Follow the on-screen prompts to diagnose and correct the problem you are having.