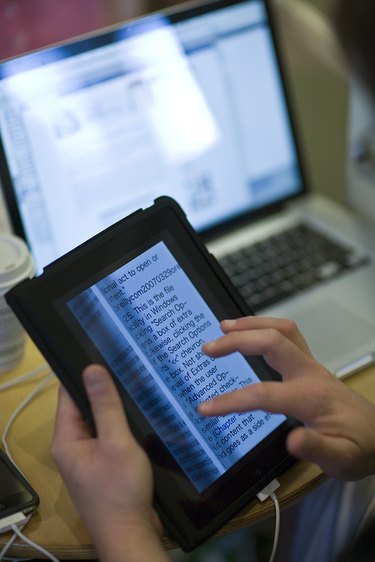 Your ability to transfer electronic books from one iPad to another depends on the digital rights associated with the book. In general, if you're moving your content from an old iPad to a new one using the same iTunes account, you should have no problems transferring your e-books. The specific reader app that stores your books, such as iBooks, Stanza or Kindle, can also affect your ability to transfer content.
Digital Rights
Electronic books are subject to digital rights management. Like printed books, the publisher needs to ensure that each copy sold is in accordance with copyright laws and that the publisher, author and all other individuals involved with the book production get paid appropriately. The DRM contracts can vary between publishers and distributors such as the Kindle eBook store or iBooks, but in general, as long as the transfer is for your own personal use, not sharing the book with someone else's iPad, your transfer is both possible with the iPad's software and legal according to DRM laws.
App-Specific Features
If you share your electronic book library across more than one device already, such as your iPad, iPhone and computer, your e-reader app may limit how many more devices you can share the book with. For example, iBooks lets you share your books among any iPads, iPhones or iPod touch devices that are registered to the same iTunes account through which you purchased the book. The Amazon Kindle store lets you share your books with up to six devices registered to your single Amazon account, and it doesn't matter whether those devices include more than one iPad.
How to Transfer
Reader apps on the iPad store your e-books within the app, rather than in external folders like on a computer. The apps and their content back up to iTunes when you sync your iPad with your computer. To transfer your iPad content to a new iPad, just back up and sync your original device, and then sync the new iPad to the same computer using the same iTunes account. Your reader app and all of your book purchases will transfer to the new iPad.
Wireless Transfer
Enable automatic downloads in your iPad's Settings app to automatically download iBooks purchases to any compatible device registered to your iTunes account. This works only for purchases you make after enabling the feature. However, with the release of iOS 5 in fall 2011, you will also be able to wirelessly back up and sync your iBooks and other e-book purchases among your Apple devices. The Kindle iPad app also lets you wirelessly sync your library across multiple devices. All you need to do is download the Kindle app on your new iPad and sign in with the same Amazon ID you used on the original iPad. This technology will also track your progress through a book, so you can start reading on one iPad or other device, and when you go to that book on the second iPad, it will open to the page where you last left off.