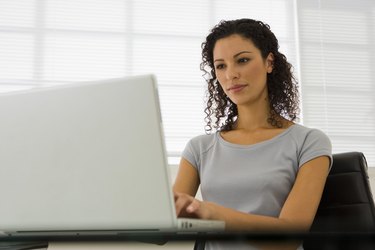 Yahoo! Mail allows users to create email accounts. Establish an account in a few simple steps, and create several accounts if you like. Set up a separate, extra email address, or set up a second email address linked to your original address. This email address works simply as a forwarding email account, which means that all emails sent to the extra email address will go directly to your original email address.
Set Up An Initial Account
Step 1
Open a web browser and type Yahoomail.com in the address bar. Alternatively, navigate to the Yahoo! homepage first by typing Yahoo.com, and then clicking on the Yahoo! Mail option on the left side of the screen. This will direct you to the Yahoo! Mail login page.
Step 2
Click on "Sign Up" to create a new Yahoo! Mail account. Fill out the registration form.
Step 3
Type your chosen Yahoo! Mail ID and click the "Check" button to see if the ID is available. If it is not available, try another one or choose from the suggested Yahoo! IDs listed.
Step 4
Type in a password and type it again in the next box to confirm.
Step 5
Choose two security questions from the ones listed. Click on the drop down menu to choose a question, or create your own security question by clicking on "Type your question here." Type the answers for each security question.
Step 6
Type the code shown at the bottom of the page. If the code is unreadable, click on "Try a new code." Click on "Create My Account."
Set Up a Second Email Address
Step 1
Log in to your email account using your Yahoo! ID and password.
Step 2
Select "Options" and click on "Mail Options." From the menu, select "Accounts" and "Add or edit an account."
Step 3
Click on the "Get Started" option under "Extra Email Addresses." On the next page, enter an email ID you like in the box under "Create a new Yahoo! Mail address." Click "Check availability" to see if the email ID is still available. Alternatively, choose an email address from among the ones listed under "Select one of these," and click "Choose."
Step 4
Confirm by clicking "Choose" again on the next page. Enter the code shown to confirm your chosen email address, and click "Ok."