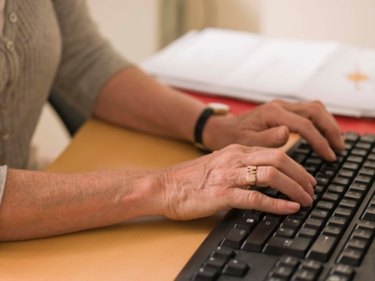 Some conversations require confidentiality. If you want to communicate privately in an email-like format, Facebook offers private messaging. Whether you choose to converse with one person, or a select group of people, the messages will not get posted to your Facebook wall. The messaging system eliminates the need to log in to an email provider to send a private message.
Sending Private Messages
Once logged in to Facebook, you can send a message one of two ways. Press the talk bubble icon at the top of your wall page above your avatar, then click on the "Send a new message" link or leave a message on a previous conversation that you created or participated in.
If you're already visiting a friend's Facebook wall, you can send him a private message by clicking on the "Message" button on the top right corner of the screen. To add additional people to the conversation, type their names in the "To:" box at the top of the message.
Messaging Extras
Much like email, Facebook's messaging system lets you do more than write a text-based message. You can attach photos, videos and links to anything on the internet within the private message. Unlike email, the Facebook messaging system gives the option to send the message as a text message to the recipient's cell phone.
Also, messages get stored and displayed in a an ongoing thread format. You can scroll through past messages from a specific person once you've opened the most recent message from her.
Private Message Limitations
Although the Facebook messaging system makes it convenient to send a non-public message while using the social media network, it does have limitations. Messages created in the Facebook messaging system cannot be forwarded to an email address outside the Facebook network. To forward a message to another Facebook user, you must click on the "Actions" button to display a menu including a "Forward" option.
You cannot directly attach offline documents -- such as spreadsheets or manuscripts -- to a private message. If you need to share this type of information, use an online document storage service that offers access to your work via Web links. Then, embed a link to the online version of your document.
Privacy And Messaging
Only Facebook users engaged in private messaging system conversations can see the messages, according to the Facebook Help Center. Messages created in the messaging system do not post on any of the commenter's walls, fan pages or other Facebook applications. However, anyone involved in the exchange of the private messages can forward the thread of responses to a Facebook user not initially included in the conversation -- or cut and paste text to a Facebook wall.