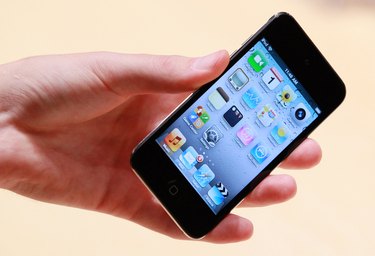 The iPhone's screen is unlike that of most cell phones, since it allows users to interact with the phone's contents using touch instead of physical keys. The phone also has a built-in chip that senses directions. Using the two, you can change the view of the iPhone's screen to flip the screen's orientation or zoom in and out of web pages, photos and other media in supported iPhone applications.
Step 1
Press the "home" button on the iPhone, which is found on the bottom of the phone's face when oriented vertically with the earpiece at the top.
Step 2
Tap any application that supports "landscape" mode. "Official" iPhone examples include the "Mail" application and Safari browser. If you're using a third-party application, supported screen modes are typically outlined in the application's description in the iTunes' App Store.
Step 3
Turn the iPhone from its traditional vertical position to a horizontal position. The screen will automatically sense the directional change and switch views so that the screen's contents are now oriented vertically in a wide-screen format instead of vertically.
Step 4
Zoom in on the screen view to change the screen's magnification. Place two fingers together on the iPhone's screen and drag them apart. The screen will change views to give you a closeup of the screen's contents.
Step 5
Zoom out of the current screen view. Place two fingers on separate points on the screen and drag them together.
Tip
You can continue to rotate the iPhone 360 degrees and the screen will continue to flip the viewing orientation to match the phone's position.