One of the limitations of Google Maps is its inability to save map images. Right-clicking the map brings up a Maps option menu instead of the traditional Windows right-click menu. Saving a map is not impossible, however. Google Maps, like anything else that shows up on your screen, can be captured by using the "Print Screen" button on your keyboard.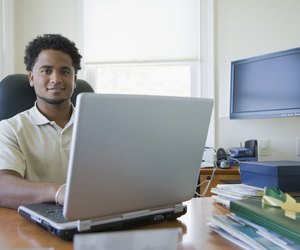 credit: Jack Hollingsworth/Photodisc/Getty Images
Step
Browse to Google Maps.
Step
Type the location you'd like to map into the search bar and click the "Search Maps" button.
Step
Click the left-facing double arrow icon near the top-left of the map (when you hover over it, the icon will say "Hide panel"). This will enlarge the Google Map to fit the entire width of your screen.
Step
Press the "F11" button on your keyboard to send your browser into full-screen mode. Notice that the map on your screen has become even larger.
Step
Press the "Print Screen" button. This will copy your current view to the clipboard.
Step
Open Microsoft Paint by clicking "Start" > "All Programs" > "Accessories" and selecting "Paint."
Step
Click "Edit" > "Paste" to paste the clipboard image into Paint. Save the file.