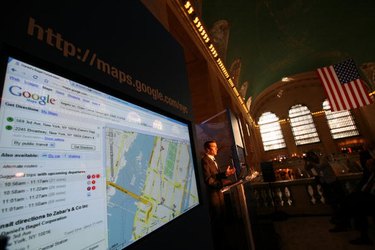 Google Maps is a powerful tool for finding locations, directions and even the view from street level. Sometimes you want to grab that map or image to use in another place, like a map on the back of an invitation. Google, however, doesn't include a way to copy the map right from the website. You can use the "Print Screen" feature on your computer to capture what's on your screen as an image, and then add that image into any application that can accept photos.
Step 1
Browse to Maps.Google.com and find the location you want to copy and paste. If you want directions or a business name, search for those and get them to display on the map.
Step 2
Zoom in or out of the map to show the area you want. Click and drag on the map to pan around. Click the double arrow just above the border between the text on the left and the map. This will expand the map to the full width of your Web browser. Press "F11" to increase your browser to full screen.
Step 3
Press "Prt Scn" on your keyboard to copy the map. It's in the upper right-hand area on most keyboards. Press "F11" again to exit the full-screen mode.
Step 4
Open Microsoft Paint, another photo editor or the program where you want to insert the map. Press "Ctrl" and "V" on your keyboard to paste the map. Crop out any sections you don't want to display, then save the image or document.