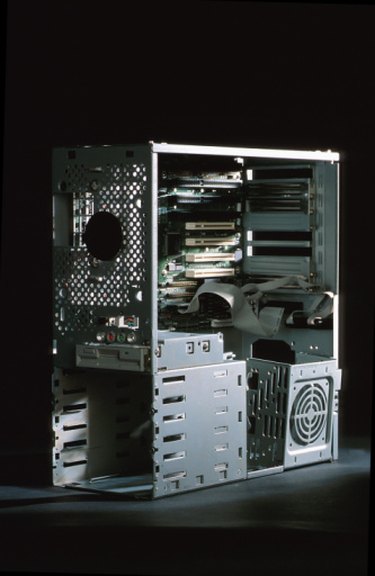 Desktop and tower computers are two different styles of computer case that use desk space in varying ways. Desktop computers are designed to lay flat on the desk, while towers stand upright. Most modern computers use one of the three sizes of tower case. Home Theater PC or server computer cases often use a desktop configuration, though, according to Newegg.com's computer case buying guide.
Mini-Tower
The smallest type of tower computer case is the mini-tower. This type of case typically measures less than 14 inches in height and is designed to conserve desk space. Although the small size of this type of case makes them convenient for users with limited desk space, the size limitations of the case often limit the upgrade potential of mini-tower computers. Most mini-tower cases only support one to two internal drive bays, severely limiting their data storage capacity. Mini-tower computers are often restricted to using less powerful low-profile expansion due to the limited space within the case. These space limitations often make mini-tower computers difficult to work on and significantly reduce their cooling capacity compared to larger cases with similar equipment.
Mid-Tower
Mid-tower computers are the most common full-sized desktop computer. This size of case provides a balance between interior space, expandability and desktop foot print. These cases are typically between 16 and 20 inches in height and up to 19 inches in length. This type of case provides significantly better cooling than most mini tower cases and usually supports up to seven drive bays. Mid tower cases are also large enough to support full size expansion cards and a larger number of case fans than mini tower cases. While mini-tower computers typically only support one or two case fans, mid tower computers usually support two to four fans.
Full-Tower
The largest type of case used in home computers is the full tower. This type of case can span up to three feet in height and often support up to fifteen internal and external drive bays. Full tower cases have spacious interiors providing superior air circulation and work space. Full-tower computers often support up to six case fans including models with a 120 or 240 millimeter diameter.
Desktop
Desktop computers are very similar to tower computers in respect to their layout. The major difference between the two is that the drive bays are turned 90 degrees so that they are oriented parallel to the surface of the desk. Desktop cases are typically equivalent in size to a mid-tower computer turned on its side. This type of case covers substantially more desktop space than a tower computer and is sometimes reinforced so that a monitor can sit on top of it to conserve space. Desktop cases usually have less cooling efficiency than mid or full tower cases since they mount fewer fans.
Home Theater PC
HTPCs are a specialized type of desktop case that is designed to work as part of a home theater system. These cases commonly support additional hardware including a top mounted fan, LCD readout and infrared receiver. These features provide additional cooling, information about media files the computer is playing and support for an infrared remote control.