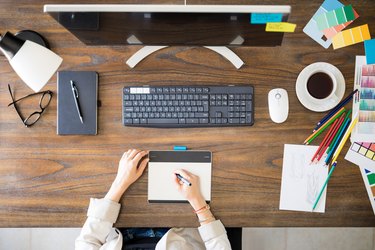 Adobe has remained a vital part of professional life, with its Creative Cloud used by everyone from graphic designers to real estate agents. The free version of Acrobat, Acrobat Reader, allows you to view and sign PDFs, but for advanced functionality, you need to pay a subscription fee. The differences between Adobe Acrobat Standard DC and Pro DC include editing ability and cost.
Adobe Acrobat Standard vs. Pro
For the most part, you can save a little on your monthly subscription fee by going with Adobe Acrobat Standard DC, which has all the basic features, including the ability to create and export PDFs. Whether you have Adobe Acrobat Pro DC or Standard DC, you can edit text and images in the PDFs you import, which is one compelling reason to upgrade from the free version. You can also fill and sign forms, although you can do that with the free version, as well.
If you regularly use your scanner, though, that's where Acrobat Pro DC steps in. The main difference between Acrobat Standard and Pro is that Pro converts scanned documents into editable and searchable PDFs. You also get mobile editing capabilities in the professional edition.
Adobe Pricing Plans
To get any Adobe software other than the free version of Acrobat, you pay a subscription fee. You can either pay monthly or upfront for an entire year. If you make a one-year commitment, you can save a little money on your monthly cost.
Overall, you pay $2 a month more for the professional version, whether you opt for the higher monthly pricing or choose a yearly subscription.
Operating System Compatibility
Mac users must use Acrobat Professional because Acrobat Standard is available only for the Windows operating system. This is the most significant consideration for Mac users as they choose between Adobe Acrobat Standard vs. Pro.
If you want to view and work with PDFs on your mobile device, the good news is you can use the free Acrobat Reader mobile app to complete basic tasks such as reading and sharing PDFs. If you want to be able to edit PDFs or delete pages, you need Acrobat Pro DC because it offers advanced mobile-editing features.
Comparing Document Versions
Another big difference between Adobe Acrobat Standard and Pro is version comparison. With Adobe Pro, you can compare two PDF files side by side to make sure you've made every change requested. This feature also comes in handy if you're trying to figure out what changed from one edit to the next.
If the document is on the overwhelming side, you can filter for specific items. This option is only available in Adobe Acrobat Pro DC. It allows you to filter a PDF by image, text, annotations or formatting.
Adobe Acrobat for Business
Individuals who purchase Adobe Acrobat weigh the differences between Adobe Acrobat Standard DC vs. Pro DC. However, for businesses, the choice is between Acrobat DC for teams or Acrobat DC for enterprise. Enterprise-based pricing is issued on an individual basis, but you have more features than you would with the team version. For example, with enterprise, you can assign multiple admins to manage users.
Small businesses aren't locked in to a business plan. You can buy Adobe Acrobat Pro DC or Standard DC for your business just as you would if you were buying it personally. Later, if you choose to do so, you can upgrade to Acrobat DC for teams for $16.99 per seat per month and access business-geared features such as the ability to easily add licenses and integration with enterprise solutions such as Microsoft Office 365 and SharePoint.