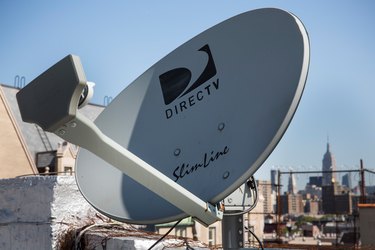 DirecTV satellite dishes are made of metals and plastics, and the interior has a circuit board that contains lead. To release the lead into the environment, the dish would have to break open to expose the circuit board. The chances a dish will break open any time soon are slight, but recycling the dish is a good practice and ultimately prevents the dish from leaching toxic chemicals into the environment. The dish may be reused or repurposed by DirecTV or a professional recycling company, which ultimately reduces the impact of these commonplace items on the environment and landfills.
Recycle Through DirecTV
Before tossing out your dish or taking it to a recycling center, check with DirecTV, Dish or your primary provider on the status of your account. You may not own the dish, in which case you must return it to the provider through a DirecTV dish return. Leasing a satellite dish is common, and the cost is typically incorporated into your monthly bill. If you throw out the dish or send it off to a recycling center, you are liable for the cost of the dish. Always call on the status of your account first. If you own the dish, contact DirecTV or your provider about its recycling program. The company may take back the dish for repurposing. At the least, it can refer you to the nearest recycling program. Scrutiny over the disposal of satellite dishes has led to improved recycling programs and communications from dish service providers.
Recycling Programs
If your service provider does not have an in-house recycling program, you must locate the nearest electronic-waste recycling center. In some communities, permanent e-waste centers are ready to accept your satellite dish along with other electronic devices on a daily basis. Small communities may not have this option readily available. In this case, you must determine when a community recycling event is taking place. Events specifically for e-waste recycling are common, and they provide the opportunity to recycle everything from old phones and printers to your old satellite dish.
DirecTV Dish Removal
Removing the dish is every bit as difficult as recycling it. Most satellite providers do not uninstall the dish, especially after the service is no longer active. Removing a dish is possible with basic tools like a crescent and socket wrench. The main point of importance is safety, as the dish is often mounted up high. Be cautious when removing a dish on a ladder. Ideally, you have access through a balcony with safety railing where you can safely remove the hardware and pull down the dish.