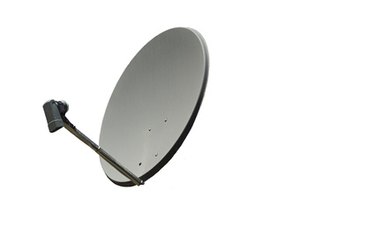 When you discontinue service with a satellite service provider, you are often left with the bulky satellite dish. The metallic dish is not biodegradable and not easily disposable, so they tend to stay connected or take up valuable storage space. However, with a little innovation, they can be reused in a few fun and functional projects.
Antenna Mount
If your old satellite dish is still wired to your living room, you can save time when putting up your over-the-air antenna. Mount the antenna to the dish and simply unplug the coaxial cable from the dish and connect to the transmitter on your antenna. The metallic dish will also function as a signal reflector to boost the reception strength of your antenna.
Bird Bath
Satellite dishes are rust resistant. The bowl shape is perfect for a bird bath. Consider mounting it to the side of a tree or on top of a post in your garden. Remember to use non-toxic paint if you will be beautifying your project. Applying swimming pool paint on the inside of the dish may prevent algae build-up.
Spartan Shield
Use a small length of rope and a old satellite dish to create a spartan shield. Simply thread the rope through the holes on the dish to create the perfect handle.
Boost 3G Signal
A satellite dish is constructed to collect signals in an efficient way. When connected to your television you get crystal clear satellite service. This same technology can be reused in rural areas prone to loss of service on cell phones. Simply place the phone in front of the dish and place your call. The dish can be relocated to a convenient location in your yard. While this may not be ideal, those who have to drive a mile for service will understand how handy this tip can be.