The first cellular phone was invented and demonstrated in 1973 by Martin Cooper, an engineer and general manager for Motorola, who successfully developed a portable handset using cellular communications technology. Cooper made the first ever cellular phone call in April 1973 using the prototype Motorola Dyna-Tac. However, Cooper's first cellphone was the result of decades of research and development into mobile radio communications, and cellphones would not be widely used until 20 years after the Dyna-Tac.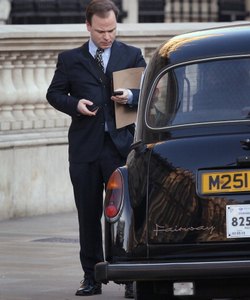 Early Uses
In the early 20th century, ships at sea were equipped with wireless radios to improve the reliability of their communications. The ill-fated Titanic, when it sailed in 1912, had these kinds of radio antennas. In 1921, Detroit Police Commissioner William Rutledge was the first public safety official to equip vehicles with radios for communication. Bell Laboratories, a division of the American Telephone & Telegraph Company, developed the first two-way, voice based radio telephone in 1924.
Walkie Talkie
During World War II, the U.S. Marine Corps used a hand-held radio, the SCR-536 "Walkie-Talkie", for short-range, two-way voice conversation. First used by Marine units on the Pacific island of Guadalcanal in 1942, it was primarily used for communications between platoon leaders and company commanders, though the sets struggled to function when weather conditions were poor or there was not a clear line of sight.
Cellular Technology
In 1968, AT&T and Bell Labs proposed to the Federal Communications Commission a system of low-powered broadcast towers, each providing coverage for a 'cell' which would be several miles in radius. Calls could be transferred from tower to tower, and each tower, or base station, would use just a small number of the frequencies available to them, which could increase the number of calls that mobile phones could make in a geographic area. After the FCC approved an increase in spectrum for mobile radio systems in 1970, Bell, Ericsson, Nokia and Motorola began developing the "cellular" technologies further.
Invention
Cooper, who had earned an electrical engineering degree from the Illinois Institute of Technology, was hired by Motorola in 1954, and began developing portable radio products. There was still not a practical hand-held device that could be small enough for people to carry with them and use in their vehicles. Cooper began developing the Dyna-Tac and after several months had a working prototype. The Dyna-Tac weighed 2.5 lbs and was 9 inches in length. A battery, which provided just 20 minutes of talk time, accounted for much of the weight. On April 3, 1973, Cooper made the first call while standing on the street near a Manhattan hotel.
Challenges
Despite the historical importance of the Dyna-Tac, it was still too large and expensive for most consumers. It would not be until the 1990s that cellular phones would be widely used by the public. This was because the cellular infrastructure needed to be further developed to include more base stations and cover larger areas. In addition, the hand-held devices needed to be refined to be more reliable and provide longer battery life.