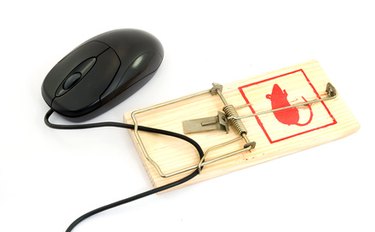 Installing the GE Wireless Optical Mini Mouse should take less than five minutes. The Mini Mouse is a plug-and-play device on some computers (software may not have to be installed), so you can simply plug in the receiver, add the batteries to the mouse and link the two devices. Once installed, the only time the mouse will need a wire is when you're recharging the batteries.
Step 1
Hold the mouse in your hand, press down on the battery compartment cover (the back of the mouse) then slide it off.
Step 2
Insert two AAA batteries into the mouse. Make sure the positive and negative terminals match up with the diagrams inside the battery compartment.
Step 3
Replace the battery compartment cover.
Step 4
Connect the USB receiver to a USB port on the computer. The computer will acknowledge that a new device has been installed and you will be prompted to install the software.
Step 5
Insert the software installation disc into the optical drive. Follow the instructions provided by the installation wizard to install the software.
Step 6
Press the link button on the receiver, then turn the mouse over and press the link button on the mouse. The mouse is ready for use.