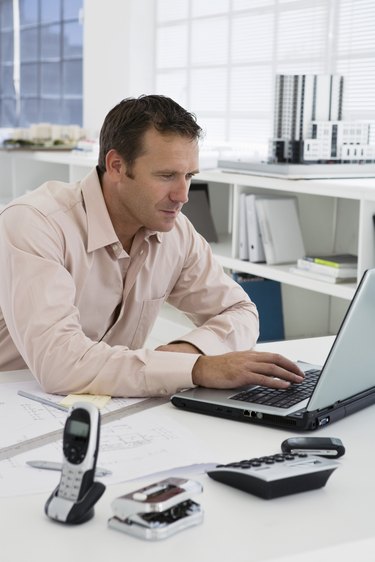 If you meet with customers or business clients at your desk, you don't want cords and cables cluttering up your workspace. Wireless devices, such as a Microsoft mouse, keep your desk clean and give you more room to work. Before you can use a wireless mouse, you need to sync or connect it to the computer. The connection method differs slightly depending on the type of mouse you have. Some mice connect to your computer via Bluetooth, and others use a USB receiver.
Bluetooth Mouse
Step 1
Turn the mouse over and hold down the "Connect" button on the bottom of the device. The device's status light will flash red and green, indicating that it's in discoverable mode.
Step 2
Press "Windows-W" and then type "bluetooth" in the Search field.
Step 3
Click "Add Bluetooth Device" in the results list. Your computer will search for Bluetooth devices.
Step 4
Click "Mouse" in the Searching for Devices window. The mouse doesn't require a passkey, but if you're prompted to enter one, type the default of "0000." The mouse pairs to the computer and is ready to use.
USB Receiver
Step 1
Flip over the Microsoft mouse and slide off the battery door.
Step 2
Insert two AA batteries into the mouse. Ensure that the positive end of each battery points toward the positive contacts shown on the battery compartment. Replace the battery door.
Step 3
Connect the included USB receiver to a USB port on your computer. Microsoft recommends connecting directly to the computer, not a USB hub. Upon connection, the wireless mouse will sync to the computer. If you haven't synced the mouse to this computer before, the IntelliPoint software may also open. Use this software to further configure your mouse.