How to Install a Wireless Mouse on a Laptop. Using a wireless mouse with a laptop is a convenient way to avoid using the laptop's built in mouse. Moreover, even if you use an external mouse, carrying a wireless mouse is easier than the wired version. Here is how to use a wireless mouse with a laptop.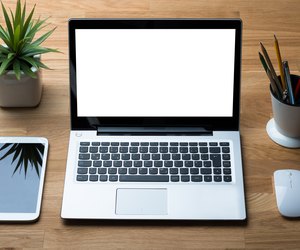 credit: AndreyPopov/iStock/Getty Images
Step
Ensure that your laptop is compatible with a wireless mouse. Most wireless mice use Bluetooth technology. Any Bluetooth enabled laptop can connect to a Bluetooth wireless mouse.
Step
Unpack your mouse and insert batteries to the battery chamber. While doing so, make sure that the positive side of the battery is inserted into the positive niche in the compartment.
Step
Place the mouse in a way that makes it easy for you to use and less stressful for your fingers.
Step
Use a wireless receiver if your laptop does not have an built in wireless receiver (either Bluetooth or 802.11b). It should be kept at least eight inches away from the laptop or any other object that would cause any interference.
Step
Insert the drivers, if any, for the mouse to function properly.
Step
Connect your receiver to the laptop by plugging in the mouse's USB connector to the USB port of the laptop. If you do not have any free USB ports, simply use an external USB hub for more ports.