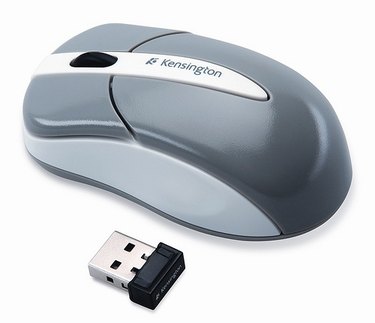 Wireless technology is expanding faster than ever before. Even though many aspects of computing still use old-fashioned cables, many others are making the wireless leap in record numbers. One of the first devices many people upgrade to wireless transmission is the computer mouse, and Kensington is by far the most popular wireless mouse brand. Aside from its portability and discount pricing, the Kensington line enjoys great commercial success due to its ease of use. In fact, the argument could be made that using a Kensington wireless mouse is easier than using an old-fashioned cable mouse.
Insert Batteries Into the Mouse
The Kensington mouse set will contain two components: the mouse and a USB wireless connector. The USB aspect will draw its power directly from the computer, but the mouse needs to have an independent power source to provide electricity for the lasers and radio frequency transmitters that make the Kensington optical wireless mouse function.
Any Kensington brand mouse will have a battery compartment that can be accessed from the top of the mouse. Use your thumb to slide the panel open and install the appropriate number of batteries. A full-sized mouse will typically require two batteries that are either AA or AAA in size, depending on the model that you have. Smaller travel-sized versions of the Kensington mouse typically require only a single AAA battery to operate.
Connect the USB Component
Connect the USB component to any USB port on the computer. Make sure the computer is turned off before connecting the device, since this is considered adding new hardware. The USB component for a Kensington mouse will usually have a red indicator light when the computer or mouse is turned off, and a green indicator light when the computer is on and the mouse is actively transmitting coordinates to the computer. Some models also have a small switch located on the USB component that can be used to switch the signal on or off.
Install the Mouse Drivers
Turn on the computer and allow the system to recognize that new hardware has been added. The computer will automatically search for the appropriate drivers for the Kensington wireless mouse that you have installed. You may also choose to install the drivers from the CD-ROM that were included with the mouse at the time of purchase.
If everything is installed but the mouse is unresponsive, try toggling the power switch. Kensington includes a battery saving feature that will power off the wireless mouse after 5 minutes of inactivity. If it has taken you longer than five minutes to connect and install the hardware, the mouse may have shut down to save energy.