Outdoor HDTV antennas have come a long way. The designs have become more compact and powerful, making them easier to install and handle. Many consumers are opting to install these smaller versions in attics, or discreetly install them in their living rooms to avoid weather-related disruptions in areas prone to snow or high winds. Rating the best outdoor TV antennas is subjective exercise. But much depends on the location of the home in relation to the transmitting towers, and obstacles that interfere with reception, such as large trees or mountains.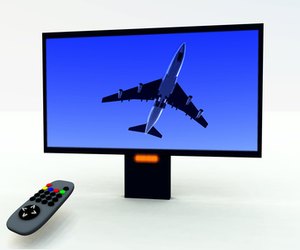 General Information
Antenna Web.org and Antenna Point.com is a good starting point for anyone purchasing an outdoor digital antenna. Both these sites provide pertinent information based on the home's address. Both will provide information on which direction to point the antenna to receive the best signals, and how many channels to expect based on the range of the digital antenna.
TV Fool will take into consideration terrain as well as distance to give a more precise assessment of signal reception.
Antenna Types
Newer antenna models are designed to multi-task by incorporating reception for UHF, VHF and HD signals. Antennas are rated from small- to large-range. Based on the mapped area of the home's address, the consumer should be able to narrow down the antenna choices to acquire the most signals available.
Consumer Ratings
High-volume retailers, such as Amazon, allow customers to post reviews of the specific items they purchased. While a high rating for an antenna indicates customer satisfaction at a glance, a new consumer should carefully search for reviews from customers who live in nearby areas to get a more accurate sense of how the antenna would work for them in their particular location. For instance, a glowing review from a satisfied customer in Texas may lead to a disappointing experience for someone living in Florida. The ratings can also be misleading since some folks are prone to rate down a product because the box it came in was too big, or it took longer than expected to install. The valuable ratings to pay attention to are based on the quality of the antenna, ease of installation, and most importantly, how many channels the customer is able to obtain in their particular area.
Highly-Rated Brands
Antennas Direct (DB2 and DB4) are both designed for outdoor use, but a large number of people report installing them in their attics or living rooms with excellent results. The advantage of both these models is that they are multi-directional and can receive signals from towers from different locations. The DB2 has a 30-mile range. DB2 dimensions: 12 by 19 by 4; weight: 2.8 lbs. The DB4 has a range of up to 55 miles. Dimensions: 4 by 19 by 29; weight: 4.5 lbs. Both these antennas are considered mid-range antennas.
RCA (ANT751) is designed as an outdoor antenna with reviewers reporting attic installation with great results. This antenna comes with a pole to attach to support beams in the attic or to attach to the side of the house. It receives HD and DTV signals, supports 1080 transmission signals and claims to support all digital and analog frequencies. This HD antenna has a maximum range of 40 miles and it is considered a mid-range antenna. Dimensions: 4.5 by 6.5 by 36.3 inches; weight: 4.8 lbs.
Winegard (HD8200U) is designed for outdoor placement only. Depending on the area, a pre-amplifier may be required to obtain the best possible signals and minimize signal distortion. This antenna is considered a large-range antenna rated for a 100-mile range. Dimensions: 168.2 by 110 by 33 inches; weight: 15.2 lbs.
Antennas Direct (DB8) is a large range multi-directional antenna that claims to receive signals from 70 miles away or more. This antenna is small enough to be installed in an attic or porch if roof mounting is not possible. Dimensions: 42 by 29 by 4 inches; weight: 8.6 pounds.
Cost
A highly-rated antenna can be very affordable. Mid-range antennas can range from $30 to $100. Large-range antennas can start around $40, and exceed $200 based on brand. Comparing the specifications across the brands, along with customer reviews in the same location, may result in a getting the best antenna for under $50.
Additional Considerations
Installation requires patience to orient the selected antenna at the best possible reception point. An RG-6 Insulated Quad cable is highly recommended to improve signal quality and reduce distortion or 'noise.' A pre-amplifier may be required depending on the tower's location and antenna selection. Professional installation should be considered if time and skills are in short supply.