iTunes gift cards do not have a phone number that you can contact to receive the balance. The only way to obtain this is by checking on iTunes. If you do not have iTunes installed download the latest version from the Apple home page, then you will be able to check your gift card and start downloading.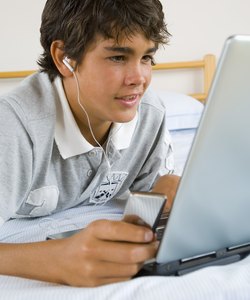 credit: Pixland/Pixland/Getty Images
iTunes
Add the iTunes gift card to your Apple account if you haven't already. You do this by opening iTunes and going to the "iTunes Store." Select "Redeem" from the right hand side of the window. You will be asked to enter your iTunes account information, and then be redirected to a page to enter the gift card information. Here you must enter the gift card number and the security numbers. The secure numbers are under the silver film on the back of the card; scratch off the silver with a coin to reveal the numbers. Once the information is filled out and sent you can close the browser. Now looking at the "iTunes Store" window you should see your balance in the top right corner.
If you previously loaded a gift card on iTunes and you want to check your balance, you just have to open the "iTunes Store" and view the top right corner of the window. The balance is updated automatically after making a purchase. If you need any help with the card, like if you got charged twice for a song or any similar problem, contact Apple support right away (800-MY-APPLE) and they will assist you.