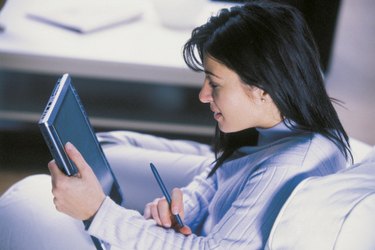 E-book sales rose more than 150 percent between June 2010 and June 2011, reports the Association of American Publishers. Evidence of this tremendous growth is apparent at Amazon.com, where the Kindle e-book reader is the top-selling item and e-book sales outpace print sales. To support this booming industry, a variety of e-readers have been developed that can read competing e-book formats. IBooks are primarily released in EPub format, while Kindle e-books are published in Mobi format. To read an EPub file on your Kindle, you need either a software program or an online document converter.
Calibre
Step 1
Direct your Web browser to the "calibre-ebook.com" website. Once there, click "Download" and select your operating system. Follow the instructions to download the application to your computer.
Step 2
Launch the Calibre Welcome Wizard and set your preferences. Be sure to select "Amazon" from the list of manufacturers and specify your Kindle model. When finished, click "Done" to launch Calibre.
Step 3
Connect your Kindle to your computer using the USB cable supplied with the device. Click "Add Books" in the upper left corner of the Calibre toolbar.
Step 4
Browse for a book on your hard drive. Click "Open" and then choose "Send to Device" from the toolbar. Click "Yes" in the dialog box to allow auto-conversion and auto-sending of the converted e-book to your Kindle.
EPub-to-Kindle Converter
Step 1
Navigate to "download.CNET.com" and type "EPub to Kindle Converter" in the search bar. Click the link with the same name that appears in the search results.
Step 2
Click "Download Now" and run the installer. Launch the program and select "Convert EPub files to Kindle files." Click "Add Files" and look on your hard drive for the files you wish to convert.
Step 3
Select the destination folder where the converted file will be saved and click "Start." When the progress bar shows the task is finished, connect the Kindle to your computer. Double-click to open the Kindle drive and drag the converted file to the "Documents" folder.
2EPUB
Step 1
Direct your Web browser to "2epub.com" and click "Browse." Select the EPub file on your hard drive that you wish to convert and click "Open."
Step 2
Click "Upload Files" and wait for the file to upload. When the upload is complete, choose "Mobi" from the "Convert to Other Formats" menu.
Step 3
Save the file to your hard drive by right-clicking and selecting "Save As" from the menu. Alternatively, click the ".zip" link to download the zipped file.
Step 4
Connect your Kindle to your computer and open the drive. Transfer the converted Mobi file to the "Documents" folder on your Kindle.