While the order in which YouTube plays funny cat videos does not particularly matter, other types of playlists can contain videos that should be played in a specific order -- lectures, podcasts or webisodes, for example, You can reorder a YouTube playlist either manually by dragging tracks up and down in the playlist editor -- a feature you can access from the YouTube Guide -- or automatically by editing the playlist's settings.
Editing the Order Manually
Step 1
Visit YouTube and log in to the website. Click on the three horizontal stripes near the YouTube logo at the top of the page to open the Guide.
Step 2
Select the playlist you wish to edit from the Guide.
Step 3
Hover your mouse over the left edge of the first video you want to move up or down the list until a gray bar appears and your mouse cursor turns into a four-headed arrow.
Step 4
Click and hold your mouse button down. You can now drag the video to a higher or lower spot in the playlist. Once you are satisfied with the video's position, release your mouse button. Repeat this process for each video whose position in the playlist you want to modify. YouTube automatically saves the edits you make to your playlist.
Automatically Sorting the Playlist
Step 1
Click on the "Playlist settings" in the YouTube playlist editor. You can open the editor by selecting the name of the playlist you want to edit from the YouTube Guide.
Step 2
Open the "Ordering" drop-down menu and select how you wish YouTube to sort your playlist -- including any video you add to it in the future.
Step 3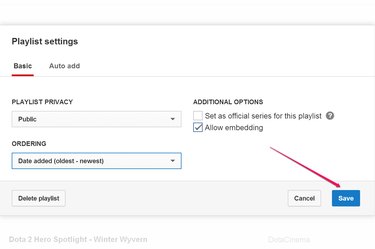 Click on "Save" to save your new playlist settings.