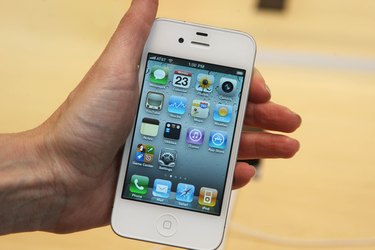 The iPod feature of the Apple iPhone allows you to play videos on your phone. Videos do not have a replay setting when you use the standard method for playing the video on the phone. You can access additional playback settings by creating a video playlist. Though playlists are designed to set up more than one video to watch at a time, you can set up the playlist with only one video so that you can access the extra playlist settings.
Step 1
Touch "iPod" on the bottom of the phone screen and then tap "Playlists."
Step 2
Tap "Add Playlist," type a name for the title of the playlist and then tap "Save." The "Songs" list automatically pops up on the screen.
Step 3
Touch "Videos" at the bottom of the screen, touch the name of the video you want to watch and then tap "Done." The name of your playlist appears at the top of the screen and the name of your video appears on the list.
Step 4
Tap the name of your video to start watching. At the top left corner of the screen appears two arrows forming an oval.
Step 5
Touch the oval repeatedly until it turns blue. Note that one of the settings has the oval turn blue with a "1" over it. You want the setting without the "1" if you want the video to repeat indefinitely. Choosing the option with the "1" means the video only repeats once.