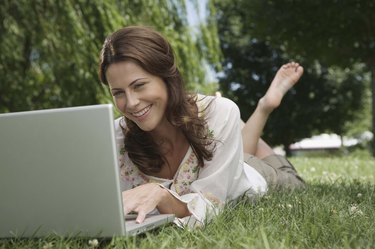 Admit it. You are one of many people who has a secret stash of old Microsoft Word DOC files in a dusty corner of your hard drive. You no longer use Office but want to open some of your old work. The good news is that you can easily convert your documents to DOCX with Microsoft Word 2007 or newer or with an online conversion service. Microsoft Word's DOCX format is more dependable, features better privacy and security, plays well with other programs and with browsers, and uses less disk space.
Save Your DOC File as DOCX
Open your DOC file in Microsoft Word. Make sure your version is 2007 or later. Click the "File" tab to open the Word Backstage view. Click "Save As." Select the folder where you want to save your document or "Browse" to choose a folder that is not displayed. The "Save As" dialog window will open. In the "Save as type" menu, select the "Word Document (.docx)" option. Click the "Save" button, and a copy of your file will be saved in DOCX format.
Notes on Converting Documents
Saving your DOC file in DOCX creates a new copy of your file. Your original DOC file will not be significantly changed.
The conversion to DOCX format may cause minor formatting changes to your document. Before you continue, review it and fix any formatting issues you see.
You can also convert your documents online using your Web browser. Zamzar, Online-Convert and Office Converter provide free online document conversion. If you have a large number of documents you need to convert, Office Converter allows you to convert several documents at once in batches.