OpenOffice can't directly open Microsoft Publisher's PUB files in any of its programs. You can, however, convert the file to the DOC format using Publisher's Save as option; once the file is converted, open the DOC file in OpenOffice. Another method is to use an online conversion tool Zamzar to convert the file to DOC or to OpenOffice's native ODT format.
Warning
Regardless of the workaround you use, not all elements of the original PUB document will convert correctly.
Some formatting and other features may not carry over to OpenOffice correctly during conversion. For example, fonts may not load correctly, especially if they're fonts unique to Publisher. In this case, OpenOffice will load the text with an available font instead.

Converting to DOC in Publisher
Publisher saves documents in a number of file formats in addition to its own PUB format. Using the Save As option in Publisher, you can convert a PUB file to a DOC file supported by OpenOffice.
Warning
This method requires that you have Publisher to open the original document.

This method doesn't preserve anything other than the text in the document, making it a less than ideal solution for PUB documents with pictures and other content other than text.

Step 1
Click File in Publisher, followed by Save As.
Step 2
Select a destination folder from the Recent Folders list or select Browse if your desired save destination isn't listed.
Step 3
Click the Save as type drop-down menu and select Word 97-2003 Document from the list.
Warning
While Publisher can save PUB files as the newer DOCX format, which is listed as Word 2007-2013 Document, OpenOffice isn't compatible with this particular format and therefore can't open it.
Step 4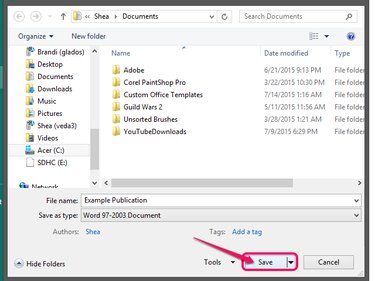 Click Save to save the file, and then open it in OpenOffice Writer to check for errors in formatting.
Using Zamzar Conversions
Zamzar Conversions is a free online service that converts document files from one type to another. As of publication, it's the only conversion service that can change PUB files to DOC or ODT. Unlike using Publisher's Save As option, Zamzar preserves pictures regardless of whether you choose DOC or ODT as your output format.
Step 1
Step 2
Select the PUB file from your folders and click Open.
Step 3
Click the Convert files to drop-down menu and select doc or odt from the list. Each format should produce roughly the same quality document, although some testing suggests that more formatting errors may occur in files converted to ODT.
Step 4
Type your email address in the field under Step 3.
Step 5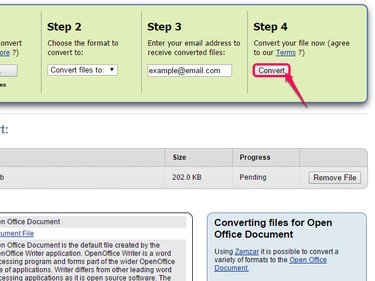 Click Convert to begin converting your file.
Step 6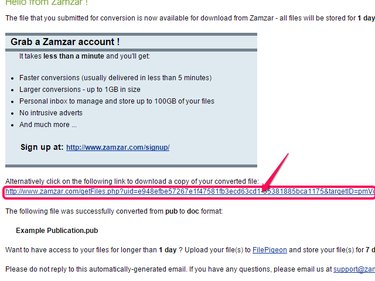 Go to your email and open the message from Zamzar. Click the link provided in the email under Alternatively click on the following link to download a copy of your converted file.
Step 7
Click Download Now on the Zamzar page linked in your email.
Step 8
Click If not then please click this link if the file doesn't immediately start downloading. Once the file is downloaded, open the document in OpenOffice to check for formatting errors or other problems.