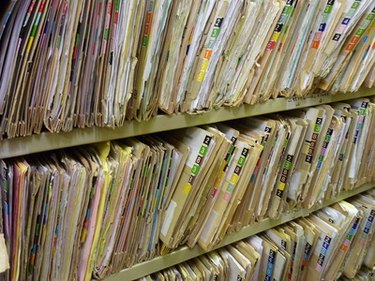 PDF is one of the most common document file formats for computers and mobile devices. Unlike a Word document file, a PDF cannot be edited by anyone but the author -- but it can be opened by a number of software programs. A TAX file is specific to the popular tax filing software called TurboTax. Users can convert PDF files to TAX within minutes, using a free online converter called ZamZar. You must first convert the PDF to TXF format and then to TAX.
Step 1
Upload your PDF file to the Zamzar.com converter. Zamzar can convert PDF files to a number of different file formats. Press the "Browse" button on the Zamzar site and navigate the browser window to find the PDF file on your computer. Press the "OK" button to begin the upload process.
Step 2
Choose "TXF" as the new file format. Click on the drop-down menu under "Step 2" on Zamzar. Scroll down and select the "TXF" option. TurboTax cannot open PDF files directly, so you must first convert to "TXF" format.
Step 3
Input your email address into the "Step 3" bar and then click "Convert." Type your email address into the bar. Zamzar will send the new converted file to your email address to download. Click the "Convert" button. Wait for the conversion process to complete.
Step 4
Log in to your email account and download the new file. Log in to the email address that you provided to ZamZar. Click on the email called "Converted File From Zamzar." Click the download link included in the email. The new file will begin downloading.
Step 5
Open the "TXF" file in TurboTax and save the project as a TAX file. Open the TurboTax program. Select "File and then click "Open File." Type the name of the TXT file into the search bar. Click on the TXF file when it appears in the browser window. Hit the "OK" button. Choose "File" and then "Save Project As." Name your project in the "File Name" bar and then hit the "OK" button. TurboTax will automatically save the project as a TAX file.