Tumblr doesn't give you the option to upload your files to their servers and then share them on your blog. To overcome this limitation and post PDF files or Word documents on Tumblr, you need to host the files online first. Many online storage services can host your files for free.
Hosting the Files Online
Upload PDF and Word documents to one of the cloud storage providers. Most services, including Google Drive, Microsoft OneDrive and Dropbox, generate permanent links to your files. Copy the link to the file, and then post it on Tumblr.
Google Drive
If you have a Google account, you can use Google Drive to store your PDFs and Word documents online and then share them on Tumblr. Don't forget to change the sharing settings so that other people can view and download the documents.
Microsoft OneDrive
Microsoft OneDrive is integrated in Windows 8.1 so you can upload and share your files easily. You can, for example, send documents to OneDrive directly from Microsoft Office. Anyone with a Microsoft account can host documents on OneDrive. Make sure to change the file permissions to allow others to view and download the documents.
Dropbox
Create a Dropbox Basic account to use the service for free. After you register and log in to Dropbox, you can upload your PDFs and Word documents and then share the files on Tumblr.
Sharing PDFs and Word Documents on Tumblr
Step 1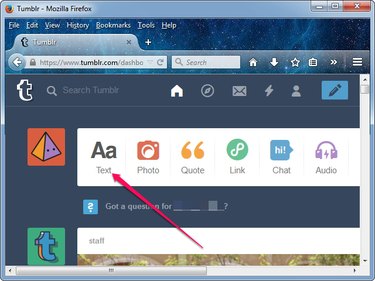 Log in to Tumblr and then click the Text button on the dashboard to start a new text post.
Step 2
Type a title for the new post, type the text you want your audience to see and insert any additional elements you'd like to include with the PDF — images and videos, for example.
Step 3
Highlight the text you want to act as a hyperlink — people click it to navigate to the document — and then click the Link button in the toolbox that displays above the selected text.
Step 4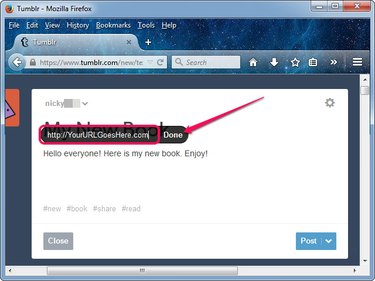 Type or paste the URL you obtained from the online storage service into the box and then click Done to create the hyperlink. Click Post to post the update on your Tumblr blog.