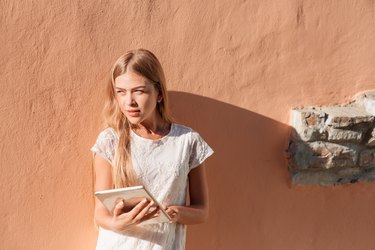 Email is a great way to send and receive photos. Photos received in emails are usually uploaded by the sender as attachments, so they can be downloaded and saved to your computer's hard drive. Once you have saved them to your hard drive, you can print them to make copies, or even edit them, in some cases, without having to access them on the Internet.
Step 1
Go to your email service provider's home login page. (See Resources for a list of email service providers that may include a link to your service provider's home login page.)
Step 2
Type your username and password in the blank data forms provided on your email service provider's login page.
Step 3
Go to your email "Inbox," once you have been granted access to your email information.
Step 4
Open the email with the file attachment symbol to view the pictures in your email Inbox. (The file attachment symbol usually looks like a paper click, and it can be found on the left side of the email message within the Inbox.)
Step 5
Click on the attachment link, and select the "Download" action that will appear in a pop-up window for the photo files.
Step 6
Select the "Save" action to store the pictures to your computer once the downloading process is complete.