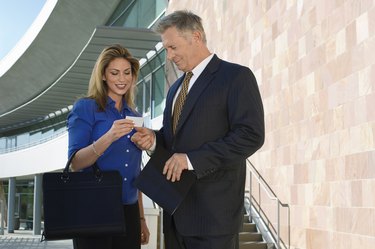 Your Twitter URL is the address to your profile, and you can view it whenever you look at your own profile on Twitter's website. You can also view it and change it within your account settings. When you know your URL, you can share it on other social media platforms and put it on other information you share with others.
View and Change URL
You can view your URL in your account settings. Log in to Twitter's website, click the gear icon and then click "Settings." Your full Twitter URL appears immediately below the Username box in this format: http://twitter.com/[username]. You can change your URL here at any time by typing a new username into the box and saving your settings, providing the new username you want is not already in use. Your Twitter URL updates when you save the settings.
Where to Use Your URL
Sharing your Twitter URL is a good way to gain followers and help people find you online. Many websites have social media fields where you can put in the URLs of your other social network profiles. In addition, you can put your Twitter URL on business cards, resumes, email signatures and personal websites. If you opt to do the latter, consider making your username something professional, like your real name, if you haven't already.