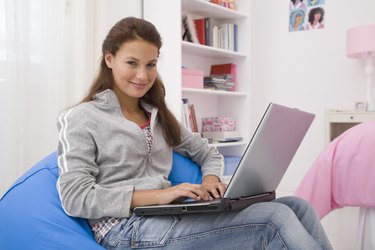 If you have no desire for your latest YouTube upload to become the next big viral video, you can choose to make it private. You can share private videos with up to 25 people and send each person a personal invitation to watch your video. Your friends can then log in to their own YouTube accounts and watch the video using your private video link.
Step 1
Log in to your YouTube account. If you have not already uploaded the video you want to make private, upload it, and click the "Private" option.
Step 2
Hover your mouse over your YouTube account name in the upper-right corner of the page, and click "My Videos."
Step 3
Locate the private video you want to share, and click "Edit."
Step 4
Scroll down to the "Broadcasting and Sharing Options" heading, and check the "Limited access URL" option under "Private."
Step 5
Click the private URL that appears in the box and copy the URL by pressing "Ctrl" and "C" simultaneously or right-clicking and selecting "Copy."
Step 6
Send the private URL to up to 25 of your friends via email, instant messenger or any other way you choose. As long as they have a YouTube account, or sign up for one, they will be able to view your private video by clicking the link.