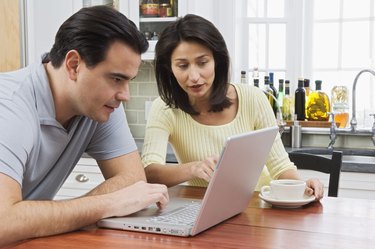 If you have a nice-looking PDF file that you want to distribute to your contacts via an email newsletter, you'll have to convert it to HTML code first. You can then edit the code to your liking. If you want to convert your PDF file to HTML format to send in an email, you can do so in just a few simple steps using a free utility from Google.
Google Method
Step 1
Create a free Gmail account at mail.google.com or use your existing account.
Step 2
Compose a new email in your Gmail account. Attach your PDF file to the email and send it to yourself (the same Gmail account).
Step 3
Open the email upon receipt and scroll to the bottom of the message to find the attachment. Click "View as HTML" to open the PDF file as an HTML file in your browser.
Step 4
Click "View" then choose "Source," "Page Source" or something similar on your browser menu (this varies depending on your browser and version) to bring up the page source of the PDF turned HTML file. Copy the code to your clipboard using "CTRL + C."
Step 5
Compose a new message in your email account again (use any email service that supports HTML) and paste in the HTML code. Modify the code to your liking. Send the email to yourself first to view the contents of the PDF file turned HTML email.
Online Converter
Step 1
Upload your PDF file to your web server so that it is available for public viewing.
Step 2
Visit Adobe's Online Conversion tools page (see "Resources" for the direct link). This service is also free.
Step 3
Enter the URL of the PDF file you uploaded into the "Enter a URL" section of the online conversion tools page, select HTML format, provide a reason for converting, choose your operating system and then click "Convert."
Step 4
Copy and paste the resulting HTML code into your email message as described in Step 5 of Section 1 above.